Kennedy HMS Hybrid Series Cabinets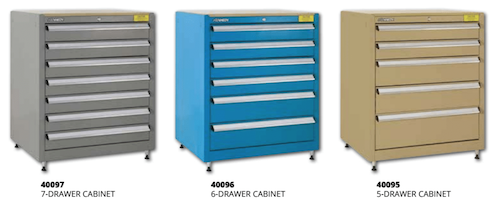 Kennedy's HYBRID Series combines HDS cabinet features with the economy of 18-gauge roller cabinet construction.
Drawers can easily be divided and labelled for small parts storage and are safety interlocked to prevent tipping under heavy load conditions. Four-inch drawers support 120 lbs. of storage capacity while six-inch and eight-inch drawers feature double slides and support 200 lbs.
An optional mobility kit can be added that allows cabinets to be taken directly to the job site or interchanged in flexible fabricating or assembly situations. These cabinets are a great way to store and transport heavily-used fasteners, tools, and supplies.
Drawer dividers a
vailable, sold separately
•
MDF work sur
face Included
•
Stationar
y, adjustable legs adds 2 ¼" to height of cabinet
•
42010 Mobile package a
vailable (see HMS™ accessories
Drawer dividers a
vailable, sold separately
•
MDF work sur
face Included
•
Stationar
y, adjustable legs adds 2 ¼" to height of cabinet
•
42010 Mobile package a
vailable (see HMS™ accessories