Crescent Quick Convert Nut Driver Set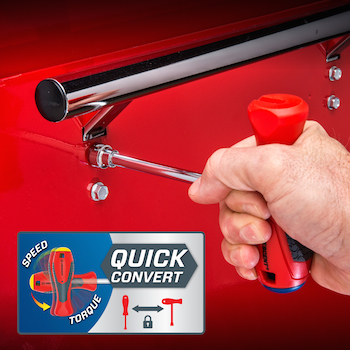 Crescent, a leading hand tool brand from Apex Tool Group, today introduced its Quick Convert Nut Driver Set. The new tools provide the speed of a straight handle driver with the torque of a T-handle driver, all in one tool.
Users can easily convert the Quick Convert Nut Drivers by pulling on the shaft, rotating the handle, and pushing it to lock in place. The set includes seven drivers, color-coded for easy identification. The universal socket design fits six fastener types (hex, square,
12-point, E-Torx®, partially rounded hex, and spline) in both SAE and metric sizes.
"Quick, easy and efficient: Those are the key attributes for this new nut driver set," said Griffin Biering, product manager for Crescent. "One Quick Convert Nut Driver Set replaces four traditional driver sets. There's no better tool for the job, as it provides speed when you want it and torque when you need it."
Crescent Quick-Convert Nut Drivers easily change from straight handle drivers for high speed turning to T handle drivers for maximum torque.
The hollow shaft works over long threaded rod where standard nut drivers won't fit. The comfortable, dual-material cushioned handle provides a non-slip grip and resists oil and grease.
To see this tool in action, visit http://www.crescenttool.com/video-gallery/index/productvideo/id/69/pid/14742.