Snap-on Non-conductive Composite Hand Tools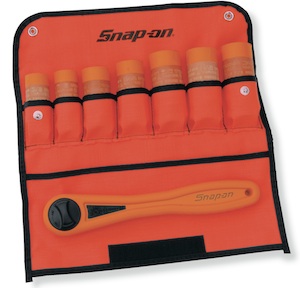 Snap-on Industrial improves safety on electrical jobs with its line of UL classified non-conductive composite hand tools. Having no conductive material path to the user, these tools ensure excellent protection, without compromising on performance.
With no need for the insulated coating that conventional tools use to provide protection, the inevitable nicks, scratches or tears on the tool's exterior will not affect its integrity, making the non-conductive tools superior in safety to traditional hand tools.
The strong material exceeds all ISO and ASME strength and performance requirements for standard steel tools. Every tool is individually tested to ensure protection up to 1000 Volt AC and 1500 Volt DC.
Additionally, these UL classified non-conductive insulating tools have a lifetime warranty for material and workmanship, and are in compliance with IEC60900 and ASTM 1505-10.
The line includes:
• 6-Piece Non-Conductive Composite Combination Screwdriver Set (stock number CNSGDX60)
• Non-Conductive Composite Nut Driver Set (stock number 107CNDD)
• Non-Conductive Composite Combination Screwdriver Set (stock number IHT60K)
• Non-Conductive Composite Ratchet & Socket Set (stock number IHT208K)
• Non-Conductive Composite Ratcheting Combination Wrench (stock number CRB1824)
• Non-Conductive Composite Needle Nose Pliers (stock number C97CP)
• 10" Non-Conductive Lineman's Pliers (stock number C59AHLP)
• 1/2" Drive 24-1/2" Long Non-Conductive Composite Breaker Bar (stock number CSN24B)
For more information on the new non-conductive composite hand tools, call 877.740.1900, or visit www.snapon.com/industrial