Custom Equipment PA, PS and Zero-Turn Series Hy-Brid Lifts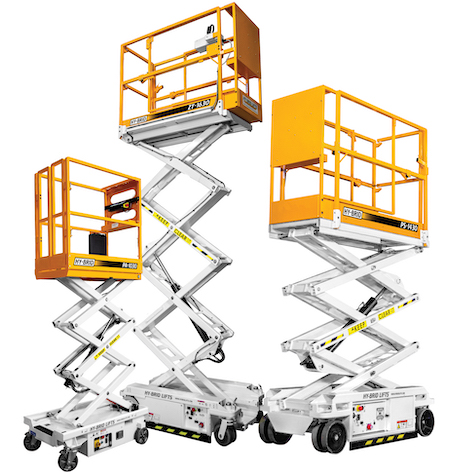 Custom Equipment LLC announces the next generation of Hy-Brid Lifts to better align with individual user needs. The line is being divided into three series — the Push-Around Series (PA Series), Pro Series (PS Series) and Zero-Turn Series (ZT Series) — to simplify the selection process.
This includes a number of safety and productivity enhancements to the existing products, as well as the introduction of two new models: the PA-1030 and ZT-1630.
"We know the challenges contractors face on the jobsite every day, which is why we never stop working to design equipment that makes their work easier and safer," said Terry Dolan, Hy-Brid Lifts president & CEO. "The reclassification of lift series will make it easier for end users to find a productive lift that is the best fit for their needs."
The Push-Around Series (PA Series), featuring the all-new PA-1030, easily enables users to manually maneuver the units into place and hydraulically raise and lower to the desired work heights. The push-around lift segment is quickly becoming one of the fastest-growing segments of lifts, as maintenance and safety managers look for more effective ways to provide increased safety and productivity in applications where ladders or scaffolding are commonly used, such as general construction, facility maintenance and manufacturing. The PA Series lifts have a small footprint and numerous features that make them a safer alternative to ladders and scaffolding. Falls from a ladder remain a top cause of injury on the worksite, something Hy-Brid Lifts combats with push-around lifts.
Users will find reduced fatigue and improved safety by eliminating the repetitive climbing up ladder and scaffold rungs. A large work platform boosts productivity, allowing for ample room for the operator, tools and materials. The auto-lock brakes and total-lock rear casters prevent unintended movement, increasing safety. In addition, users will experience improved stability and reduced platform movement with the robust scissor stack and oversized pins. Finally, navigation through a tight workspace is made easy thanks to the PA Series lifts' compact size and lightweight design.
The Pro Series (PS Series) includes the PS-1030 and PS-1430. Hy-Brid Lifts builds these self-propelled lifts with efficiency-enhancing features which make them the ideal choice for professional trades. The PS Series lifts address specific needs of professionals working indoors in applications that require operators to work at elevated positions for prolonged periods of time, including construction and facility maintenance. Contractors will see increased productivity and flexibility with these easy-to-maneuver lifts, replacing the need for 19-foot lifts on a jobsite.
The PS Series lifts' large work platform and high lift capacity allow contractors to bring more tools and materials and get more done per trip up the lift. Plus, an ergonomic design and built-in tool tray improves productivity while on the lift. The machine's lightweight design allows access to delicate surfaces or fresh concrete early with the lowest floor-loading pressures in the industry. In addition, the lifts' compact size gives it the ability to fit through standard doorways and elevators, simplifying movement through buildings.
The Zero-Turn Series (ZT Series) features precision maneuverability, making it the ultimate compact lift for maximum productivity and ease of use in tight-space applications. The series includes the ZT-1230 and the all-new ZT-1630. The ZT Series is the most compact series in the lineup, which allows for access to areas other lifts can't. The lifts' innovative point-and-go style drive provides unrivaled maneuverability in confined spaces. Proportional controls provide optimal lift positioning and precise jobsite mobility. Users are able to move the lift little by little or rapidly with the joystick controls. It also includes the built-in tool tray and signature lightweight design of Hy-Brid Lifts, which allows for earlier access to sensitive flooring.
The scissor stack supports the weight of the platform with four points of contact while mast lifts are supported by only one point of contact, making the ZT series lifts a safer and more secure choice. The series also provides the operator a larger work area than standard mast-style lifts. Common mast lift working platform areas range from 33 inches to 38 inches. The ZT Series of Hy-Brid Lifts provide a 55-inch working platform and up to 85 inches with the extended platform.
The all-new ZT-1630 is compliant with the new ANSI standard A92.20. This regulation, which will become effective December 2019, covers design, calculations, safety requirements and test methods for mobile elevating work platforms.
"We were one of the first to introduce low-level lifts, and we've been experts at it for more than 30 years," Dolan said. "Our commitment to innovation and safety has allowed us to be ahead of the ANSI standards and ready to introduce the next generation models. We will continue to build and establish trust through innovation, honesty and a focus on our customers' needs."
All Hy-Brid Lifts are heavy-duty, safe and lightweight, with low wheel loads that allow users to maneuver them over delicate floors and get onto green concrete sooner. They are USA-made with high-grade steel, and all feature non-marking tires and a low step-in height. All lifts are covered by a two-year parts and labor warranty and a five-year structural warranty.
Custom Equipment engineers and manufactures all-purpose Hy-Brid Lifts brand of lifts in electric self-propelled and push-around models. The low-level lifts offer exceptional capabilities in a heavy-duty but lightweight design, are easy to maneuver and reach working heights up to 22 feet. Contractors and maintenance technicians can use them from start to finish for a wide range of applications in industries as diverse as construction, drywall, electrical, HVAC, painting and plumbing, industrial manufacturing, facility maintenance.
For more information: Custom Equipment, 2647 Highway 175, Richfield, Wis. 53076; 262-644-1300; fax 262-644-1320; sales@hybridlifts.com; www.hybridlifts.com.