DAP AMP Advanced Modified Polymer Waterproof Sealant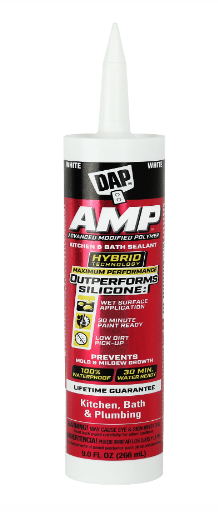 DAP, a leader in the home improvement and construction products industry, has been committed to driving innovation and sealant performance for decades and offers advanced hybrid sealant technology for every type of project:
Kitchen, Bath and Plumbing Projects
For kitchen and bathroom projects, use a hybrid sealant that's waterproof and mold and mildew resistant, such as AMP Kitchen, Bath & Plumbing. While most silicone sealants have to be applied on dry surfaces and have a 12-hour rain/water ready time, this hybrid sealant provides a 100% waterproof seal with the ability to be applied on wet or damp surfaces and is rain/water ready in just 30 minutes. AMP is also specifically formulated to prevent mold and mildew growth for a lifetime guarantee, whereas traditional silicone sealants only offer seven to 10 years of mold and mildew resistance.
Interior Molding and Trim
If you're sealing interior crown molding or trim, you want a sealant that provides excellent flexibility and adhesion to both wood and synthetic trim. AMP hybrid sealants offer maximum flexibility and superior adhesion for a durable seal that won't crack or shrink. It is safe for marble and granite and most metals and prevents mold and mildew growth for a lifetime guarantee. Silicone sealants are known to have a strong odor when applied, so for indoor projects, consider choosing a sealant like AMP that's low in odor.
Window, Doors & Siding Projects
Over time, exposure to various weather and climate conditions, including extreme heat and cold, can break down exterior sealants. When working on windows, doors, siding and trim, select a high-performing, weatherproof sealant specifically formulated to withstand the elements without cracking, crumbling or losing adhesion over time. Combining the best attributes from traditional silicone and polyurethane technologies, AMP Window, Door, Siding & Trim is ideal for exterior applications, including windows, doors, siding, trim, gutter, flashing and concrete, as it provides exceptional weatherability and flexibility.
Painting Projects
The AMP line of sealants also has the added benefit of easy application and clean up, compared to silicone sealants which can be more difficult to apply and require solvents to clean up. AMP sealants are all paintable, with a fast 30-minute paint-ready time. Silicone sealants can't be painted, so if you're looking to paint, you'll want to choose an easy-to-paint hybrid or latex alternative. In fact, AMP outperforms silicone in key performance attributes such as paintability, wet surface application and crystal-clear clarity.