Adhesives & Sealants: DAP FASTPATCH 30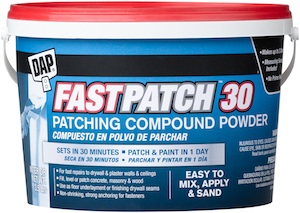 DAP Products Inc., announces the launch of FASTPATCH 30 patching compound designed to provide both professionals and do-it-yourselfers with a high performance repair solution that is both versatile and easy to use while also saving them time.
DAP FASTPATCH 30 is formulated to set fast and dry hard, allowing consumers to finish interior repair projects in less time than traditional patching compounds. It sets hard in just 30 minutes, letting you patch and paint in one day. Also, there's no need to prime the patched area before painting, which saves time by eliminating an additional step.
Compared to other options on the market today, DAP FASTPATCH 30 is extremely versatile in that it can be used for a wide range of applications and on a wide variety of substrates. DAP FASTPATCH 30 is perfect for repairing holes and cracks in plaster and drywall walls and ceilings; finishing drywall seams, and patching wood, concrete and masonry surfaces. Because of its high compressive strength - up to 40 percent stronger than leading competitors - it is ideal for use as floor underlayment or for making spot repairs on wood floors.
DAP FASTPATCH 30 is easy to use. It mixes easily with water to make only the amount of patching compound needed for the job at hand. It's easy to mix, applies smoothly and sands easily. Also, included in the handy plastic container, is a measuring scoop to provide accurate powder to water mix ratios and ensure optimal performance for the specific application.
FASTPATCH 30 doesn't shrink and provides superior impact resistance and strong anchoring power for fasteners. When dry, it can be filed, drilled, nailed, chiseled or sculpted.
DAP FASTPATCH 30 is available in 3.5 lb pail.