Adhesives & Sealants: Intertape Red Alert MD Water-Activated Packaging Tape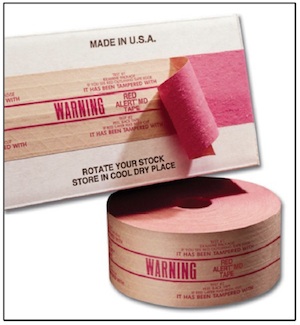 Intertape Polymer Group Inc. has a water-activated packaging tape solution that can help reduce product damage or theft, and offer tamper evidence.
"Water-activated tape, in general, bonds instantly to virgin and recycled fiber cartons and offers the most secure adhesive tape closure system available in the market today," explained Ray Vales, IPG Corporate VP Sales. "Red Alert MD adds invaluable security and peace-of-mind when shipping costly merchandise."
Red Alert MD is a printed water-activated tape with reinforced fiber strands laminated between the top and bottom paper layers of the tape. If a shipment has been tampered with and someone tries to remove the tape, it will leave a visible red bottom layer behind to alert the intended recipient of attempted pilferage or theft.
In addition to providing a measure of security, Red Alert MD is also strippable. There is no need for the recipient to use a knife or box cutter to open the carton and potentially damage the top layer of contents inside. Simply peel off the top portion of the tape and use a finger to break the red layer underneath.
"There's nothing more frustrating than when product gets damaged by box cutting knives used to open shipments, which occurs quite a bit in the food and retail clothing industry," stated Vales. "Our Central brand Red Alert MD water-activated tape offers a great two-fold solution."
For more information about Red Alert MD water-activated tape, please contact Joel Steinbrunner at jsteinbr@itape.com.