Adhesives & Sealants: DAP SMARTBOND Construction Adhesives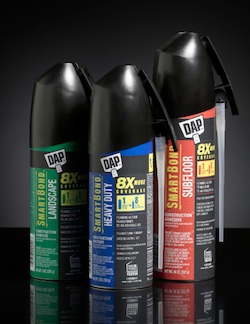 DAP Products Inc., announces DAP SMARTBOND construction adhesives, a dynamic polyurethane adhesive foaming gel that is faster and easier to use than traditional cartridge adhesives. Jobs become more efficient because a single can of DAP SMARTBOND construction adhesive provides eight times (8X) the coverage of standard cartridge adhesives, so users can do more with less.
DAP SMARTBOND construction adhesives are designed to address a wide range of professional adhesive applications. Application materials include dimensional and treated lumber, plywood, OSB and enhanced OSB, composite materials, drywall, foam, concrete, brick, natural and synthetic stone, painted surfaces and other common building materials.
DAP SMARTBOND SUBFLOOR ADHESIVE – Ideal for the high-volume user doing labor-intensive framing projects. It can be used on wet, frozen and treated lumber.

DAP SMARTBOND SUBFLOOR GUN-GRADE ADHESIVE – Designed for use with the SMARTBOND Pro-Grade Applicator Gun for faster application, precise bead control and maximum adhesive yield.

DAP SMARTBOND HEAVY DUTY ADHESIVE – Offers heavy-duty strength and reliability for a wide variety of general construction, remodeling, maintenance and repair projects.

DAP SMARTBOND LANDSCAPE ADHESIVE – For ease-of-use and speed in laying block work for retaining and garden walls and water feature perimeters.
DAP SMARTBOND CLEANER – Dissolves and removes unwanted uncured adhesive from the Applicator Gun and surfaces for fast and easy clean-up.
8X More Coverage
As certified by the NAHB Home Innovation Lab, DAP SMARTBOND construction adhesives offer better value and yield by providing 8X the coverage of a traditional cartridge adhesive. For example, the installation of subfloor in the average new home, uses between 30 to 50, 28 ounce cartridges of subfloor adhesive using a 3/8" bead size, but an installer will only need four to five cans of DAP SMARTBOND Subfloor Adhesive using a 1/2" bead size.

25 Percent Faster Application
The easy aerosol dispensing makes DAP SMARTBOND 25 percent faster to apply than traditional adhesive cartridges. The pressurized can dispenses easily and doesn't require the same pumping action that's required with a cartridge and gun. Because SMARTBOND provides better coverage; it eliminates the frequent swap-out of used cartridges, which means better efficiency and less fatigue. Unlike most foam products, DAP SMARTBOND construction adhesives are reusable for up to 30 days when stored properly, so there's less product waste. They can also be sold and used in all 50 states.
Unique Foaming Action
DAP SMARTBOND is a revolutionary polyurethane formula that applies as a foam and transforms by collapsing into a high-strength, fast-curing adhesive gel which develops an incredibly strong, durable and permanent bond to a wide range of building materials. The unique collapsible chemistry allows the foam to adhere to the substrate immediately, so it won't blow away or splatter like other foam products. The results are less wasted product and faster clean up.