DEWALT 40V MAX Brushless Chainsaw

DEWALT expands its offering of professional-grade battery-powered Outdoor Power Equipment with a 40V MAX* Brushless Chainsaw. The line of 40V MAX* DEWALT Outdoor Equipment for landscapers is GAS PERFORMANCE. GUARANTEED.
The 40V MAX* Brushless Chainsaw is equipped with a powerful motor that achieves up to 100 cuts per charge using a DCB406 40V MAX* 6.0 Ah lithium ion battery and up to 70 cuts using a DCB404 40V MAX* 4.0 Ah lithium ion battery, both on 6x6 inch pressure-treated pine wood.
The unit features a low kickback 16" Oregon bar and chain with LubriLink and LubriWell auto-oiling for continuous lubrication and a tool-free tensioning system for quick bar and chain adjustments.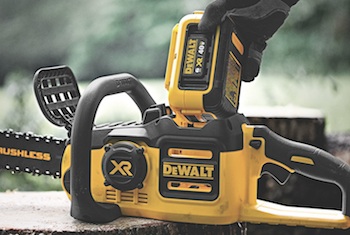 The chainsaw delivers smooth cuts, long chain life, and no engine maintenance like gas-powered chainsaws. With no more of the pull-to-start issues associated with gas-powered equipment, this chainsaw is ideal for use in landscape and construction applications, even in closed spaces.
In addition to the 40V MAX* system for landscapers, DEWALT also offers an expanding line of 20V MAX* Outdoor Equipment for construction and maintenance professionals that includes a 20V MAX* 5.0Ah Brushless String Trimmer and a 20V MAX* 5.0Ah Brushless Handheld Blower with plans to expand the line further.
For professionals already heavily invested in DEWALT's 20V MAX* power tool system, the outdoor equipment expands their system – now up to 55 tools – and allows the professional to GET MORE DONE.
DEWALT's 20V MAX* and 40V MAX* Outdoor equipment eliminate the hassles that come with gas-powered equipment, including mixing and spilling fuel, breathing fumes, and costly trips to the pump. The equipment also eliminates the engine maintenance that gas-powered equipment requires, doing away with carburetors, spark plugs, and air filters. This battery-powered equipment starts with just the pull of a trigger and eliminates the inconvenience of pull cords and cold starts – especially important for equipment used less frequently like chainsaws.