Tool Boxes: DeWalt Rolling Metal Storage System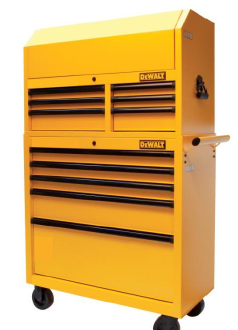 A new DeWalt rolling metal tool storage system consists of four models that measure 36 or 52 inches wide.
The 36-inch 6-Drawer Top Chest (model DWMT73678) and 36-inch 5-Drawer Roller Cabinet (model DWMT73679) deliver a combined capacity of up to 1,400 pounds.
DEWALT has built the rolling Metal Storage system to feature auto-return closing drawers, 100-pound capacity ball bearing drawers, a-200-pound capacity extra deep bottom drawer and fully extendable drawers.
The pull-out drawers are deep and large enough to store and organize an array of large tools. The top lid design provides enough clearance to allow a DeWalt 20 Volt drill to stand with the lid closed. Knockouts in the back of the top lid allow power cords to run inside for battery charging even while the lid is closed and locked.
The drawers on the Top Chest and Roller Cabinet feature 100-pound auto-return drawer slides for heavy-duty storage capacity. Top and bottom keys are included for an internal locking mechanism with breakaway keys.
Heavy-duty casters offer durability and easy movement.
The Top Chest provides 9,096 cubic inches of storage space with a 10-3/8" deep top that stores a variety of power tools and hand tools for easy access. Specially-designed gas lid stays allow the top lide to open and close smoothly or hold it open.
The Roller Cabinet features 12,896 cubic inches of storage space. An extra deep 12" bottom drawer offers additional storage with 200 pound capacity.
The 36" 6-Drawer Top Chest retails for $249.99 and the 36" 5-Drawer Roller Cabinet retails for $349.99 and will be available in June 2014. The systems also offers a 52-inch 8-drawer Top Cabinet ($599.99) and a 9-drawer Roller Cabinet (699.99.