Tool Boxes: Stanley Vidmar Nexus Accessory System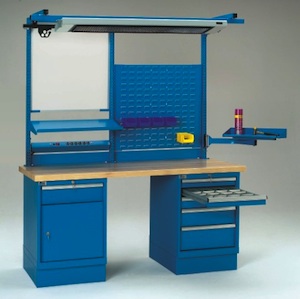 Stanley Vidmar introduces the Nexus Accessory System, bringing functionality and versatility to any workbench.
The Nexus System is a flexible collection of above-worksurface accessories and modular components designed to meet the needs of multiple applications.
This unique accessory system has been ergonomically designed, delivering easy accessibility to tools and parts with no stretch or strain, reducing the risk of injury and increasing productivity. The system can be fully customized and retrofitted to an existing Vidmar workbench and is modular in design, allowing for easy reconfiguration and maximum space utilization.
Accessories include tool rails, lights, shelves, pivoting monitor arms and accessory trays. Electrical and air power attachments can also be added, as well as overhead cabinets for storage of files or large, bulky items.
Backed by a Lifetime Guarantee.
Stanley Vidmar offers both new and potential customers a free onsite analysis to ensure that all storage needs are being addressed. Interested businesses should visit www.StanleyVidmar.com or call 800-523-9462.