Tool Boxes: Stanley Vidmar Modular Drawer Cabinets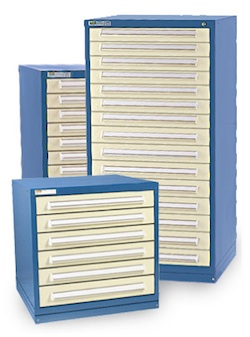 Designed with the modularity and flexibility of building blocks, Vidmar Modular Drawer Cabinets allow storage to grow one or more cabinets at a time as needs expand.
Completely customizable. Far more storage-efficient than open shelving, Vidmar modular drawer cabinets are custom-built around desired specifications.
Comprehensive options available for height, width, color, number of drawers, and drawer layouts.
Protects inventory. Fully enclosed cabinets protect valuable and sensitive items from dust and damage allowing items to maintain a like-new appearance.
Fully adjustable. Drawer options within any cabinet housing can be rearranged or interchanged with other cabinets. Customize unique drawer interiors specific to storage needs.
Strong, durable, and guaranteed. Each fully extendable drawer can hold up to 400 lbs. and is backed by the Vidmar Lifetime Guarantee.
Vidmar offers both new and potential customers a free onsite analysis to ensure that all storage needs are being addressed. Interested businesses should visit StanleyVidmar.com/contact or call 800-523-9462.