Dow GREAT STUFF PRO Gasket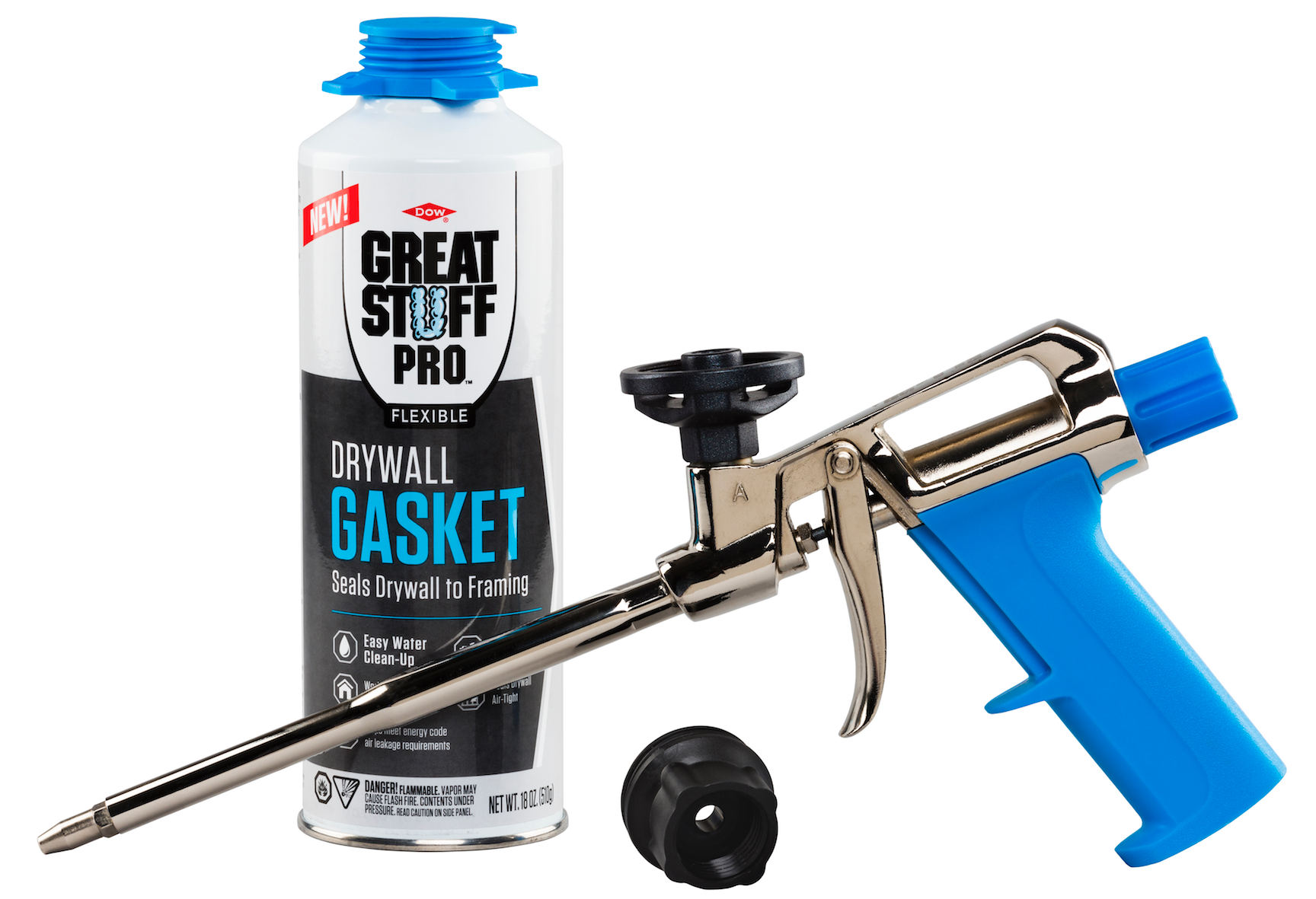 Dow Building Solutions, a global business unit of DowDuPont Specialty Products division, introduces a water-based, one-component sealant foam technology used to improve air sealing performance by creating a gasket between drywall and framing.
This unique formulation is compressible when cured, allowing a flat plane when drywall board is attached to the wall frame. The flexible foam bead stays in place and is durable enough to withstand scraping and rubbing when drywall is slid into place.
Builders and installers can enjoy increased productivity, while meeting stricter energy codes, using GREAT STUFF PRO Gasket because it enables builder and trade friendly sequencing while delivering comfort and performance for the home owner. This formulation does not expand like traditional one component spray foams, preventing the added work of trimming rigid foams when excess is applied, and because it's compressible, it cannot be over applied. Unlike mechanically fixed gasketing methods where the gasket often pops off or tears during drywall installation, this material is very tolerant of abrasive contact.
GREAT STUFF PRO Gasket was added to the GREAT STUFF product line to satisfy the contactor's need for an easy- to-use product that does not interfere with drywall installation, but still allows effective air sealing performance. With air leakage accounting for 40% of energy loss in new homes, this durable, flexible foam solution allows for a smooth, even drywall installation.
Additionally, the water-based solution helps professionals to work safely and sustainably via a low-VOC product with the additional benefit of water clean-up where over application, drips or spills might occur.
"GREAT STUFF PRO Gasket gives contractors a reliable way to improve air-sealing performance between a home's framing lumber and drywall," said Linda Jeng, marketing manager, Building & Construction. "The unique gasket and dispense gun application allows the professional insulators to maximize energy savings without any changes to construction sequencing and deliver a quality home the builder can be proud of and the home owner can enjoy."
The foam is intended to be applied to the face of framing lumber around the top plate, bottom plate and all rough openings and left exposed to air for cure. Depending on humidity, cure take 2 to 24 hours. For more information on Dow's GREAT STUFF PRO Gasket, visit www.dowgreatstuff.com or call 1-866- 583-2583.