Simpson Strong-Tie SET-3G High-Strength Anchoring Adhesive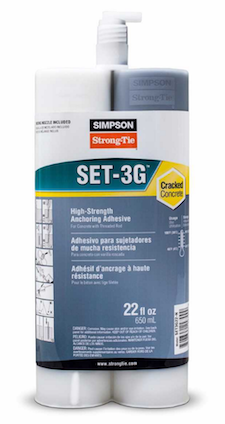 Formulated to yield superior performance in threaded rod anchor and rebar dowel installations in cracked and uncracked concrete at elevated temperatures, the new SET-3G high-strength anchoring adhesive is the latest innovation in epoxy anchoring adhesives from Simpson Strong-Tie.
In addition to providing exceptional bond strength with a cure time of just 24 hours, SET-3G adhesive has been proven to outperform other products on the market.
Application and Installation
The two-component, one-to-one-ratio, epoxy-based anchoring adhesive formula dispenses in a uniform gray color to match surrounding concrete surfaces, and can be easily installed in downward, horizontal, vertical and overhead orientations.
The versatile SET-3G adhesive is designed for dry or water-saturated use conditions with temperatures anywhere between –40°F (–40°C) and 176°F (80°C). The low-odor formula also offers contractors jobsite flexibility with its ability to be installed in dry, water-saturated or water-filled holes in base materials whose temperatures range from 40°F (4°C) to 100°F (38°C).
Testing Criteria
Available in three sizes, SET-3G adhesive has been thoroughly tested.
Tested in accordance with ICC-ES Acceptance Criteria for Adhesive Anchors in Concrete Elements (AC308) and ACI 355.4 for use in cracked and uncracked normal-weight and lightweight concrete.
Qualified for use in structures assigned to Seismic Design Categories A through F.
Code listed to work with the Speed Clean DXS dust extraction system, which complies with updated OSHA Silica Dust Compliance Regulations to save time and keep workers safe from hazardous airborne dust.
For more information about SET-3G high-strength anchoring adhesive, including detailed strength design data tables for various surfaces and drill bits, code listings, cure times and more, visit www.strongtie.com/set3g.