Gasoila Soft-Set Thread Sealant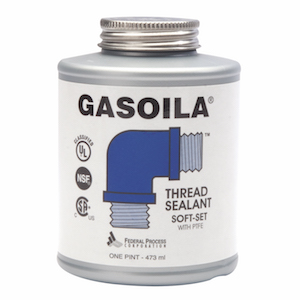 Gasoila Chemicals' Soft-Set Thread Sealant with PTFE – one of the industry's most respected and trusted soft-setting sealants – is specially formulated to resist extreme temperatures and pressures.
This popular sealant is relied upon by mechanical contractors, plumbers, DIYers and hard-working people in fields where long-lasting, non-seizing seals are needed.
"Gasoila Soft-Set sealant provides a quality seal that is dry to the touch and long-lasting, but won't hinder disassembly, making it ideal for repairing leaks and a variety of other projects around the jobsite and at home," said Dave Johnson, vice president, Gasoila Chemicals. "With its ultra-high temperature and pressure thresholds, you can be certain that joints and fittings will stay sealed during the most extreme conditions."
Available from major distributors across the U.S. and Canada, Gasoila Soft-Set sealant provides a positive seal on pipe threads, joints, fittings, hoses, nozzles, LPG cylinders, pump assemblies, fuel lines, couplings and more.
The non-toxic paste takes up to 24 hours to set, depending on conditions, giving working professionals and DIYers ample time for adjustments. Seals created with Gasoila Soft-Set sealant are capable of withstanding temperature ranges from -100°F to 600°F and pressure of up to 3,000 psi for gases and 10,000 psi for liquids.
Usable with most metals and plastics, Gasoila Soft-Set paste is an ideal sealing solution for jobs including brass, copper, stainless steel, aluminum, black pipe, PVC and many other materials. The formula is non-corrosive and contains no lead, making it safe and eco-friendly. The product offers excellent resistance to water, steam, natural gas, propane, gasoline and more. It is not for use in oxygen-based systems.
Gasoila Soft-Set thread sealant is available in multiple sizes, including a 1/8 oz. tube; 2 oz. tube with countertop dispenser; 1/4-, 1/2- and 1-pint cans with brush-top lids; and quart and gallon containers with a friction top. For a list of Gasoila product distributors, visit www.gasoila.com/gasoila-product-distributors.
Gasoila Chemicals develops and markets industrial strength pipe thread sealants, penetrants, lubricants, marking paint, cleaners and a variety of other chemical solutions for the petroleum, plumbing, LP gas, HVAC, automotive and general industrial markets. From the production of its first can of Gasoila Pipe Thread Sealant in 1915 through today, the company has manufactured all of its products in small batches to deliver high-quality products to industry professionals.