Epson LABELWORKS PX LW-PX400 Wireless Label Maker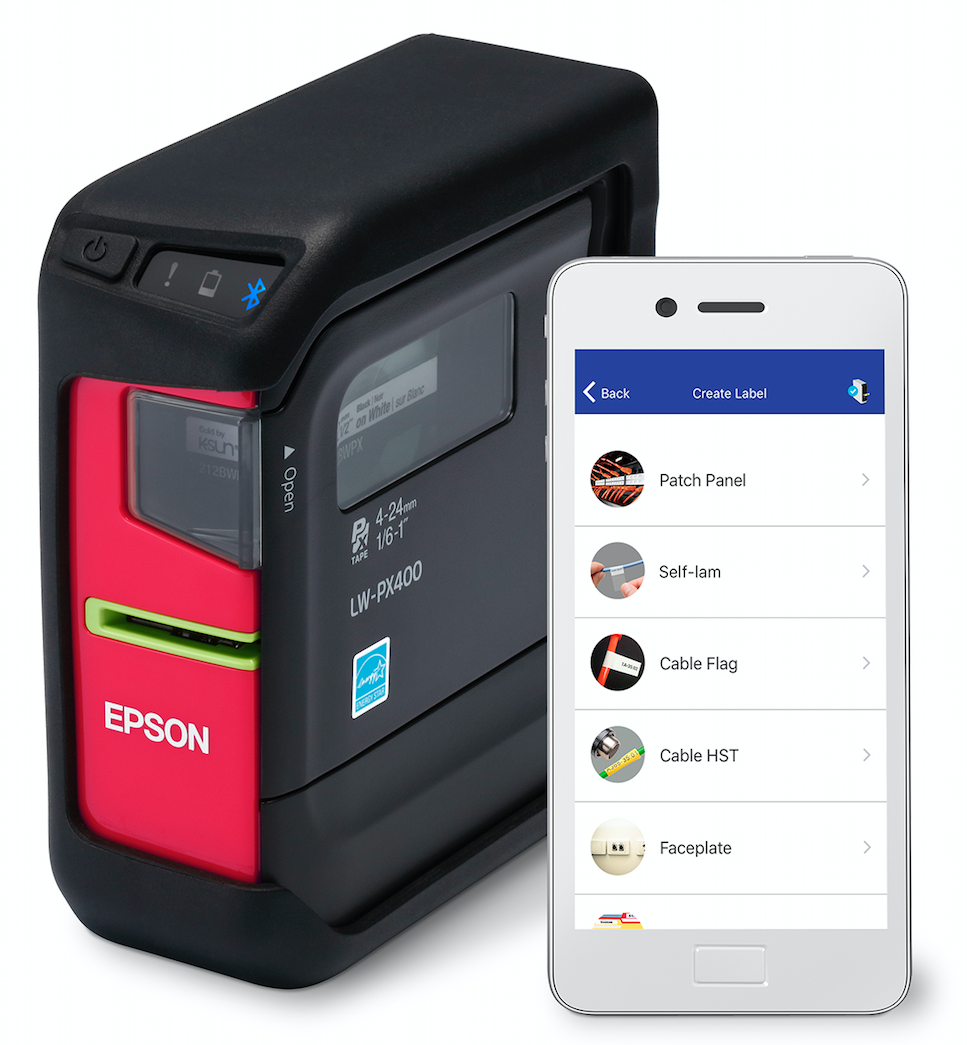 Epson LABELWORKS PX introduces the LW-PX400, a portable industrial label and wire-marking printer for creating professional labels and markers wirelessly or via USB. The LW-PX400 comes with LABELWORKS PX's unbeatable lifetime warranty.
The smallest, lightest and most flexible printer on the market, the LW-PX400 can work wirelessly in the field via Bluetooth, using iLabel and Datacom apps for iOS and Android mobile devices or the powerful Label Editor Professional software for PC. Label Editor Lite software is available for Mac computers.
"The LW-PX400 is designed for ultimate versatility and is the latest in the LABELWORKS PX line of printers with innovative features that save time and money," says Andrew Kasun, marketing manager for Epson LABELWORKS PX. "The LW-PX400 is compact yet sturdy and is designed for both portability or desktop use. With both mobile apps and software, the LW-PX400 is a convenient tool to create outstanding visual communication for professionals in any industry."
The Datacom app is designed to streamline labeling jobs common in the telecom and datacom industries. Pre-loaded TIA-606-B patch-panel templates from selected hardware manufacturers make it easy to fit data into different-sized panels. The iLabel app includes industrial graphics, photo import, pre-formatted templates, speech-to-text recognition, date-time stamp and works with Google Drive and Dropbox cloud storage.
Print wirelessly even when powered with 6-AA batteries. The Energy Star-certified LW-PX400 also comes with an AC adapter for printing at a workstation or when connecting to an outlet is more convenient. A removable Drop-Guard printer cover meets MIL-STD-810F for use in the toughest environments.
The LW-PX400 prints on supplies from 1/6" (4 mm) to 1" (24 mm) wide. Create professional visual identification with 160+ durable LABELWORKS PX supplies and mark wires/cables with self-laminating wraps and heat shrink tubing plus select from magnetic tape, glow-in-the-dark, strong adhesive, removable adhesive, reflective supplies and more. With more material per cartridge, LABELWORKS PX supplies are designed to diversify and simplify supply selection for industrial applications in the facility or field.
For more information contact K-Sun at 1-800-622-6312, info@ksun.com, or www.ksun.com.