Tool Bags & Belts: Ergodyne Arsenal 5506S Tool Rig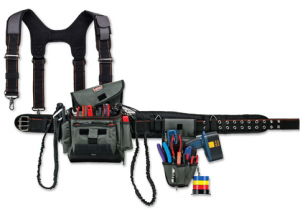 Ergodyne announces the Arsenal 5506S Installer/Drill Holder Tool Rig. The Arsenal 5506S combines comfort, functionality, and safety unlike any other tool belt - featuring an ambidextrous drill holder, an aerial tool pouch and suspenders to evenly distribute weight.
Everything has its place on the Arsenal 5506S. With it, workers can ascend or descend from the jobsite using both hands - while always maintaining three points of contact.
With the added features of Ergodyne's patented storm drains and the Arsenal 5518 aerial tool pouch cover flap (with hook and loop closure), the Arsenal 5506S delivers an organizational system that prevents dropped tools and protects them from the elements.