Tool Bags: Veto Pro Pac LC and LT Tool Bags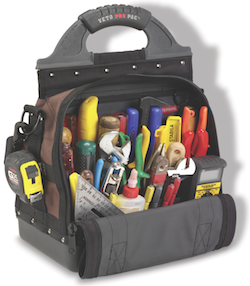 While on the job, a contractor has a major impact on a company's image. A jumble of tools in a beat up bag, continually returning to a van to get a tool or not finding what's needed in a disorganized kit does not project professionalism.
That's why the Veto Pro Pac Model LC professional grade tool bag was developed - to enhance professionalism while increasing productivity.
The Model LC was designed by founder Roger Brouard after spending months on field calls with contractors and is specifically created with this professional's tools and work routines in mind.
The bag contains 57 pockets capable of handling 75 hand tools. The Model LC also comes in larger sizes (XL and XXL) and an open-top series is available as well (http://www.vetopropac.com/open-top-lc).
Need your laptop on the jobsite? Then check out the Model LT, a rugged laptop mobile business tech bag designed to organize and store your laptop and tools on the jobsite.
Veto Pro Pac's patented center panel design allows for immediate visual inventory and access to all hand tools, saving contractors from the frustration of hunting for tools, reducing trips to service trucks (increasing productivity on the job), and increasing billing time.
www.vetopropac.com/products/model-lt