Tool Bags: Pelican ProGear Sport Backpacks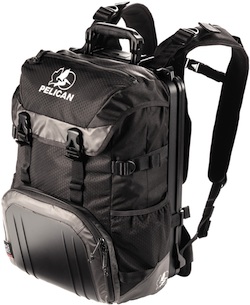 Pelican Products, Inc., introduces Pelican ProGear Sport Backpacks as the newest additions to its newly-established consumer products line, Pelican ProGear (www.PelicanProGear.com).
Pelican ProGear Sport Backpacks encompass either a Pelican hard case or rigid compartment to fit and protect personal electronics and belongings.
The integrated crushproof Pelican case in the Elite models features the same military-grade attributes as Pelican's classic case products (including a watertight o-ring seal with automatic pressure equalization valve), and is designed to safeguard laptops, MacBook computers, netbooks, e-readers, tablets, keyboards and other accessories. Also included with Elite models is a set of four adhesive, memory foam buffers which secure the laptop or tablet for safe travel.
The new Pelican ProGear Sport Backpacks are offered to consumers in a range of colors (black, orange and green) and light weight styles. The collection appeals to an active demographic with light rip-stop nylon and a slimmer case design that favors Ultrabooks. Pelican ProGear Sport Backpack models include:
S100 Elite Laptop Backpack: Protects all 15-inch laptops and 17-inch Apple products with a built-in, watertight, crushproof Pelican case. The S100 Elite Laptop Backpack also features bottom-expanding sling storage in addition to its top-loading TSA-ready main storage compartment. Other features include a rigid front plate and ergonomic ventilated back panel for tablet device protection - MSRP: $269.95.
S140 Elite Tablet Backpack: An integrated watertight and crushproof Pelican case safeguards tablets, notebooks and small netbooks, while also fitting most tablet keyboards. It also features a rigid front plate, ergonomic ventilated back panel and SureGrip soft rubber handle. Additional features include top-loading TSA-ready main storage compartment as well as a padded lumbar storage cavity - MSRP: $239.95.
S105 Laptop Backpack: Shielding 15-inch and 17-inch laptops and Apple products, the impact-protective frame provides 360-degree protection – allowing the S105 to be light weight, yet still provide superior performance. Additional features include a rigid front plate, integrated laptop sleeve and ergonomic design with deep-ventilated channel back panel – MSRP: $139.95.
S145 Tablet Backpack: Includes an impact-protected tablet sleeve with rigid front plate offering an additional storage option to the 21-liter main storage unit. The S145 also features an ergonomic, fast-access/top-load design with deep-ventilated channel back panel – MSRP: $109.95.