Everwin SN50S5-A Full-Auto Heavy Wire Stapler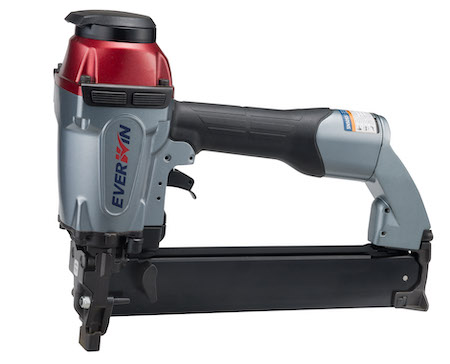 The SN50S5-A is the industry's first speed-adjustable, full-automatic 16/17 gauge stapler available to general contractors. Three qualities that make the SN50S5-A unique are Productivity, Versatility, and Reliability.
The SN50S5-A's Auto-Cap enables any user to shoot staples rapidly with ease. Its adjustable speed dial allows users to set the firing speed to accommodate their work pace, at any rate between 1 to 20 staples/second.
The SN50S5-A helps make the output of veteran operators more consistent and helps boost the efficiency of operators new to the industry, whether it be on a construction site or in a manufactured housing factory.
The secret of the SN50S5-A lies within its full-automatic firing valve, which comes as an assembled cap unit called the AUTO-CAP. By simply replacing traditional cylinder cap units of any Everwin heavy wire stapler with the Auto-Cap, one can convert his/her Everwin stapler to full- automatic mode. This provides full flexibility according to the needs of each job site.
The all-metal construction of the SN50S5-A paired with its hidden jam-clearance mechanism and depth adjust dial cover makes the Everwin stapler more durable compared to competitor tools.
On a 3-foot steel plate drop test, competitor staplers in the market broke after 300 to 700 drops whereas the SN50S5-A survived 3,573 drops. This helps minimize tool repair downtime needed in harsh environments.
Learn more at www.everwinpneumatic.com