Powernail XL-Series Rolling Floor Nailers and Staplers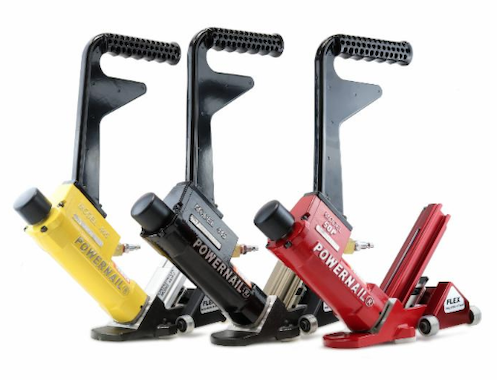 "A new line of Rolling Tools for Today's Pro."
Powernail Company is proud to announce the release of a new line of rolling floor Nailers and Staplers, designed for today's high-production, wood floor installer.
These new "XL-Series" tools are available in 18-gauge (L-cleat nailer), 16-gauge (L-cleat nailer) and 15.5 Gauge (Stapler). They are fully adjustable to accommodate different thicknesses of wood floors. Their design reduces fatigue and helps to increase production of solid, wood floor installations.
All new XL-Handle
At more than 3 inches taller and 2 inches longer than traditional handles, this tool allows you to stand taller while needing less force to move the tool forward.
Heavy-Duty Rolling Base
Featuring a Tri-Glide fixture and enlarged roller bearing, the XL Rolling Base is designed to prevent edge-crush on prefinished flooring and last longer on unfinished.
New XL Bumper
Each of Powernail's
XL-Series
tools features a new, low-profile cap and oversized rubber bumper. It's a larger target for those who work longer hours.