FastenMaster Cortex System for Deckorators Deck Boards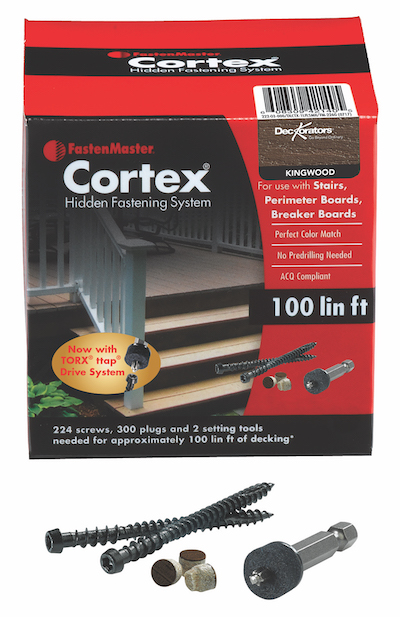 FastenMaster, a leading manufacturer of innovative fastening solutions for residential construction applications, has developed the Cortex Hidden Fastening System for leading deck board brand Deckorators Decking.
The Cortex System is comprised of a screw, plugs made from the same decking, and setting tool. Cortex offers a strong connection between the deck board and joist. It hides fasteners across the entire deck, first and last board, perimeter, and stairs. Cortex comes with product enhancements including a TORX ttap Drive System, a modified fastener, and a stronger setting tool. The new thread design reduces installation torque and dramatically increases fastener strength. In addition, the stronger bit material and industrial grade felt will enable you to install 350 fasteners on one Cortex Setting Tool.

"Cortex enables a Pro to hide screws where a hidden clip may have challenges. This allows for a completely fastener free deck surface. Pros and home owners are demanding that type of finshed look.," said Anthony DiSanto, Exterior Applications Product Manager for FastenMaster. "Cortex continues to be the Pro's choice for a hidden plug system. Our expansion into leading brands like Deckorators are important to provide solutions for our Pro Contractors and Channel Partners."
Cortex for Deckorators Decking is available in a 100-lineal foot package and can now be purchased directly from FastenMaster. The Cortex program for Deckorators Decking is sold with a carbon steel screw or the option of a 305 stainless steel screw. All screws, plugs, and setting tools are included in every box.
Established in 1981, FastenMaster is a brand of fastening solutions for professional contractors. Its products are engineered for structural, decking and trim applications in residential construction, and its product lines include the LOK Line, PAMFast, and Cortex Hidden Fastening systems.
For additional information please call 800.518.3569 or visit www.FastenMaster.com.