NAVAC NRDD Vapor Recovery Unit Gets 3-Year Warranty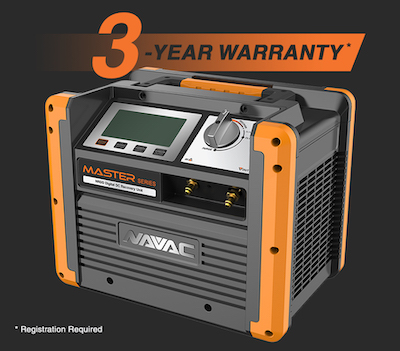 NAVAC, the world's largest supplier of HVAC vacuum pumps and recovery machines in addition to a wide array of tools, gauges, charging machines, and other industry-specific items, has announced a generous three-year warranty, with product registration, for its next-generation NRDD Recovery Unit, whose twin-cylinder compressor and oversized condenser with two rows of microchannel coils offer exceptionally efficient vapor recovery. The standard warranty remains two years without registration.
The extended, comprehensive three-year warranty surpasses those offered by most major brands, and matches guarantees granted by some less prominent HVAC/R industry players. The move provides an extra layer of reassurance to NAVAC's technician-centric commitment to user-friendly equipment and tools that are less complicated and save time – both crucial to busy techs charged with conducting efficient yet exacting service.
The NRDD Recovery Unit features a brushless DC motor that allows it to provide substantial power in a compact size and weight of just 25 pounds. This DC technology also provides better starting performance under low voltage conditions. Another benefit of NAVAC's NRDD Recovery Unit is its ease of use. Its large, LCD display is backlit for clearly visible, highly intuitive operation, and its modern, sleek appearance give its user the show-worthy confidence of high-precision manufacturing.
"The NRDD has quickly become one of our most popular units, and we want to show how strongly we stand behind our premium recovery solutions," said Stephen Rutherford, VP of HVAC Tools Business for NAVAC. "It is an exceptionally reliable machine with a low warranty claim rate, but we want technicians to be reassured that should something need addressing it will be done so expediently and free of charge for an industry-leading three-year period."
NAVAC is a global manufacturer that has dedicated over 20 years to the R&D and manufacturing of industrial vacuum solutions and HVAC/R tools. NAVAC draws upon its commitment to technical innovation, strong customer service and robust R&D allocation to deliver solutions offering unsurpassed efficiency, accuracy and ease of use.
Comprising a full lineup of tools, gauges, detectors, charger and vacuum pumps, among other solutions, NAVAC's product portfolio is designed with one overarching concept in mind: user-friendliness. The company seeks to meet a need for simpler, lighter, faster solutions that expedite service without sacrificing accuracy. For more information, www.navacglobal.com.