Thermal Dynamics Cutmaster 40 Manual Plasma Cutting System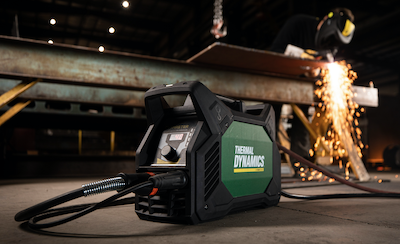 Thermal Dynamics, an ESAB brand, launches its Cutmaster 40 manual plasma cutting system, successor of the Cutmaster 42. The power source weighs 22 lbs., has the flexibility to use 115V – 230V primary power and delivers a rated output of 40 amps at 40 percent duty-cycle or better.
On 230V primary, it delivers a recommended cut and pierce capacity on 1/2-in. steel and can sever steel up to 1 in. On 115V primary, it delivers a recommended cut and pierce on 3/8-in. steel. To use 115V, simply connect the supplied 115V adapter to the hardwired 230V plug. The unit is designed for motor sports, mobile fabrication, light construction, HVAC, metal/building/roofing, mechanical contracting, maintenance/repair, farm/ranch, metal art and DIY applications.
"Head-to-head evaluations against leading competitors confirmed that the Cutmaster 40 delivers superior cutting performance on both 115V and 208-240V primary power," says Kris Scherm, Global Manual Plasma Business & Product Director, ESAB. "You don't always need that extra punch of power or duty cycle, but it's there when users need it to work harder or take on bigger jobs."
The Cutmaster 40 features a rugged, weather-proof, three-handle case that better protects the unit, especially during transportation in a job box or back of a work truck. The handles make it easier to move the unit in tight quarters, as well as help organize the cables when moving it.
The Cutmaster 40 comes with the proven SL60 1Torch with 16-ft. torch lead, which is up to 4 ft. longer than competitive torches. Further, because it uses Thermal Dynamic's ATC® torch connection (standard on all Cutmaster units), users can connect an additional 25-ft. length of torch lead or the SL60QD 1Torch, which offers a quick disconnect feature enabling selective replacement of either the torch handle assembly or torch leads at a lower cost than replacing both together (a necessity with one-piece torch/lead assemblies).
The work cable uses a standard 50mm Dinse connection, while the robust work clamp creates a strong electrical connection.
"We designed the torch and work cables to disconnect in seconds, which improves cable management when moving the unit," adds Scherm. "Also, because these items are often used in tough industrial environments, things can be damaged, so the quick disconnect design makes them easily replaceable."
The SL60 1Torch comes with the Cutmaster Black Series electrodes, which extend operating life by up to 60 percent. As a result, they lower cutting cost and downtime, as well as maintain cut performance over a longer time period.
ESAB backs the Cutmaster 40 with an industry-leading 4-year warranty on the power supply and a 1-year warranty on the 1Torch.
ESAB Welding & Cutting Products is a recognized leader in the welding and cutting industry. From time-honored processes in welding and cutting to revolutionary technologies in welding and cutting automation, ESAB's welding consumables, equipment, and accessories bring solutions to customers around the globe. For more information, visit www.esab.com or call 1-800-ESAB123.