Flexzilla Pro Field-Repairable Air Hose Assemblies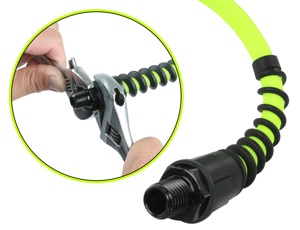 Legacy introduces the Flexzilla Pro Line of field-repairable air hose and fittings. Flexzilla Pro allows the end user to repair damaged hose in seconds while reducing downtime at the job site. Repairs can be done without special tools or clamps. Flexzilla Pro fittings are made of a lightweight yet durable anodized aircraft aluminum.
To make hose repairs, simply cut out the damaged section of hose and remove the reusable Flexzilla Pro fittings. Insert the fitting into the undamaged hose using light air tool oil or rubbing alcohol to lubricate. The Reusable fittings can then be easily pushed into the undamaged hose until they are sealed tightly against each other.
Flexzilla Pro air hose, with its industry leading all-weather flexibility, is usable down to -40º F.
Flexzilla is Kink resistant under pressure and offers excellent abrasion resistance. It has a 300psi working pressure with a 4:1 safety factor. The Flexzilla Pro hose and fittings offer a strong and durable seal making it ideal for industrial, contractor and DIY applications. Visit www.flexzilla.info for more information.