Reelcraft SD10000 Series Low Profile Hose Reels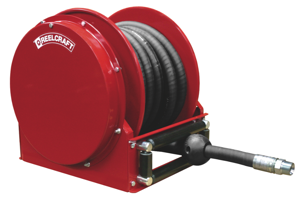 Reelcraft introduces the new Series SD10000 low profile spring retractable hose reels. These hose reels are designed to facilitate larger diameter 3/4" and 1" hose up to 50 feet in length.
They feature a high quality external drive spring and a heavy gauge all-bolted frame. The ultra low profile design of the reel is the most compact in its class, making it ideal for mounting in truck cabinets or other areas where space is limited.
Models available for air, water, oil or vacuum recovery hose. For additional information call 1-800-444-3134 or visit the Reelcraft Web site.