General Equipment 262H EPIC Series Two-Man Hole Digger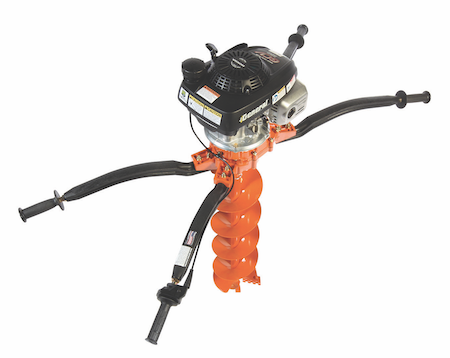 The new 262H EPIC Series two-man hole digger from General Equipment Company offers a lightweight, long-lasting design that is well suited for both homeowners and contractors in a wide variety of industrial and construction related digging projects.
Like other hole diggers in the EPIC Series, the 262H product design raises the bar for performance, ease of use and safety. The new, ergonomically engineered Power-FLEX composite operator handles maximize control, strength and balance, while dampening vibrations. It also reduces kickback and fatigue to increase operator comfort, productivity and jobsite safety.
The handle includes a Magura twist-grip throttle for confident control of the hole digging process.
Another new feature on the EPIC Series hole digger is the Auger-LOK system, allowing operators to conveniently remove stuck augers. The Auger-LOK uses a spring-loaded actuator to lock the auger in place so that operators can simply twist the auger out of the hole. This practical solution eliminates costly damage to hole digger and auger when using other removal methods.
Powered by a 4.4-horsepower (3.3 kW) Honda GCV160 four-stroke engine, the 262H is capable of digging holes up to 12 inches (305 mm) in diameter. The quiet, smooth-running engine offers a maximum digging torque of 134 foot-pounds (182 Nm). It is directly mounted to a totally enclosed, oil-lubricated transmission for maximum efficiency. A reliable all-metal centrifugal clutch delivers optimum digging power and consistent performance, as well as long service life.
The 262H has a 1-inch-diameter (25.4 mm) round auger drive connection and is compatible with the 2350 series earth augers and auger extension from General Equipment Company. The unit weighs 50 pounds without an auger.
In business since 1955, General Equipment Company is a family-owned manufacturer of hole digging, surface preparation, dust collection, plus portable ventilation, air scrubbing and lighting equipment.
For more information, contact General Equipment Co., 620 Alexander Drive S.W., Owatonna, MN 55060, call 507-451-5510 or 800-533-0524, fax 507-451-5511 or 877-344-4375, or visit the website at www.generalequip.com.