Measurement: General Tools FD08 Formaldehyde Meter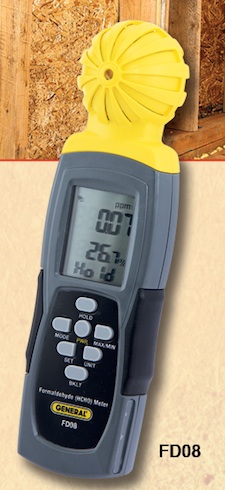 On March 1, the CBS News program "60 Minutes" featured a segment on Lumber Liquidators' Chinese-made laminate flooring. Tests revealed the products emit unsafe levels of formaldehyde — a compound found in the adhesives that bind wood fibers together in the core boards of engineered flooring.
At high levels, formaldehyde can cause cancer. Even at low levels, it can induce respiratory problems and irritate the eyes, nose and throat.
With hundreds of thousands of U.S. homes estimated to contain this type of flooring, the health hazard potential is huge.
The new handheld Formaldehyde Meter (FD08) from General Tools & Instruments is the perfect tool for determining whether flooring, carpeting, drapes, wall board or other furnishings installed in a consumer's home or a business office emits an unsafe level of formaldehyde. It is also suitable for measuring workplace levels of the toxic gas in manufacturing facilities and warehouses.
The FD08 is an invaluable Indoor Air Quality (IAQ) measurement tool for home and commercial contractors, remodelers and home inspectors.
It is also highly useful to plant managers and operators, and plant safety and environmental health personnel in manufacturing facilities where formaldehyde is used in resins and bindings, or as a process chemical.
General's Formaldehyde Meter has a range of 0 to 5ppm and a resolution of 0.01ppm. With an accuracy of +/-(5%+0.03ppm), it meets the U.S. National Institute for Occupational Safety and Health (NIOSH) acceptance criterion for accuracy.
The unit has an operating range of 32° to 122°F (0° to 50°C) and also measures temperature and relative humidity. Readings are displayed on a 2 in. (51mm) LCD.
The device tracks, calculates and displays three cumulative formaldehyde gas metrics: 8-hour TWA (Time-Weighted Average), 1-hour average, and 15-minute STEL (Short-Term Exposure Limit).
With the potential health risk posed by formaldehyde in flooring and other construction materials, as well as in furnishings, the General FD08 is an instrument that no contractor, home inspector or plant safety manager should be without.
The new Formaldehyde Meter (FD08) is in stock and available for purchase. Visit www.generaltools.com/fd08.