Measurement: Bosch GLM 30, 35 and 40 lasers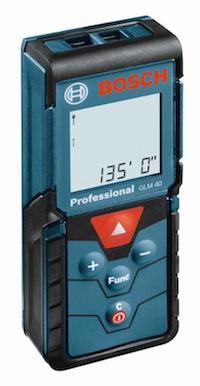 The attitude and accuracy of the pocket-size GLM 15 is now available with greater functionality in the newest laser measure products from Bosch: the GLM 30, 35 and 40.
These laser measures offer greater range of 100 ft., 120 ft. and 135 ft., repectively, with accuracy of 1/16". A simple keypad offers users the option to select length, area, volume and indirect measurements.
Turn the laser measure on and the user is instantly measuring in real time. The measurements change instantaneously as the user moves farther or closer to the target. It's a function that works just like a tape measure.
Put away the pad of paper and calculator. Easy computation of area comes with just two clicks of the button; volume with three clicks. And backlighting allows users to see information in dark areas with better resolution, so measuring applications in low-light or no-light conditions can still be accomplished.
"The Bosch GLM 30, 35 and 40 laser measures extend the functionality of the Bosch laser measure line, but maintain the simplicity of the original GLM 15," said Brian Vranek, product manager, laser measuring, Robert Bosch Tool Corporation. "For users looking for full laser measure functionality in a small package, the Bosch GLM 30, 35 and 40 are the perfect tools to meet their needs."
These laser measures offer a handy pocket-size design that makes them easy to use anywhere and fit in any pocket. And the squared shape ensures the unit remains steady on a flat surface.
The Bosch GLM 40 offers all the functionality of the GLM 30 and GLM 35, plus the ability to store up to 10 measurements. The unit also comes with target cards, a hand strap and a pouch.

Key applications include distance measurement for anything from rooms, windows, doors and ceiling heights to calculating area of walls and volume of rooms. Targeted users include anyone who measures for their jobs, from drywallers, painters, remodelers, plumbers and electricians to appraisers, real estate professionals and inspectors.
To learn more about the Bosch GLM 30, GLM 35 and GLM 40 Laser Measures or to find a local dealer, visit www.boschtools.com