Measurement: PLS 480 Laser Layout Tool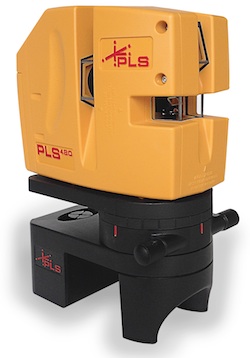 PLS Pacific Laser Systems is proud to announce the latest addition to its respected group of lasers layout tools. The new PLS 480 provides commercial grade accuracy and performance for layout of square and level for exterior and interior alignment tasks.
Designed for the commercial multi-story contractor and the residential- remodeling professional, the PLS 480 is ideal for layout of foundations, wall, cabinets, square on slope and horizontal benchmarks.
This versatile laser tool is fully self leveling, has a working range of 200 feet, an accuracy of +/- 1/8 inch at 60 feet and carries a three year warranty.
The PLS 480 will be packaged with accessories for both interior and exterior applications. The PLS 480 is designed, assembled and distributed from Pacific Laser Systems facility in San Rafael, California.