Drill Bits: Guhdo Gmaxx Router Bits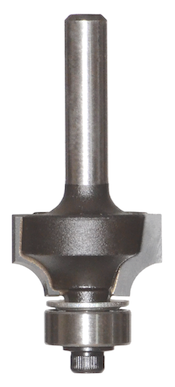 GUHDO introduces a premium line of router bits in the United States under its new Gmaxx series of superior quality cutting tools designed and manufactured for professionals and discerning hobbyists.
The Gmaxx line of premium router bits is available in both 1/4" and 1/2" shanks and is noted for the high quality of steel used, digitally calibrated carbide cutting edges and the broad variety of the most popular cutting profiles offered.
"GUHDO has been producing router bits for over 50 years and router bit manufacturing is actually a core competency of the company," says John Otto, Vice President of Sales and Marketing. "So, while our Gmaxx bits are new here in the U.S., end users can be assured that they're getting a truly high-quality German cutting product from a leader in the industry."
Gmaxx bits are produced by a highly advanced manufacturing process using the latest developments in technology. GUHDO works closely with materials suppliers to develop the most optimum mix of elements in its carbide. The most advanced steel alloy is used to protect structural integrity and a unique grinding process results in precision edges for more accurate cutting.
The entire process is controlled by highly sophisticated quality assurance techniques and equipment at every critical stage of production to ensure
that customers are satisfied with product performance and product life.
For more information about GUHDO Gmaxx, call toll free 855-624-4297.