Hamilton Ergo-X2 Casters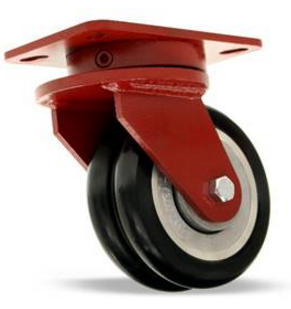 Hamilton Caster is proud to announce the new patented Ergo-X2 Caster Series designed to reduce the force needed to push or pull carts. The new patented swivel caster design features two precision machined offsetting ball races in a compact assembly to minimize one of the final unresolved issues with swivel casters: lock up.
Lock up in this context occurs when the cart is brought to rest and at least two casters rotate to positions in which two or more wheels become substantially misaligned. A typical swivel assembly in a caster has only one pivot point. The Ergo-X2 Caster essentially provides a second pivot point that reduces the startup force to get the cart moving when lock up is present.
The benefits of the Ergo-X2 casters are also in direct alignment with Hamilton's own passion for workplace safety and creating environments that reduce musculoskeletal injury. According to Liberty Mutual the largest worker's compensation insurance provider in the US, overexertion, lifting, pushing, pulling, holding, carrying, or throwing, costs employers $15.08 billion every year.
So now it's common for safety managers to demand that push/pull forces not exceed more than 45 pounds. The Ergo-X2 paired with one of Hamilton's ergonomic poly treads is the path forward. Material handling operators that must adhere to these strict ergonomic standards, like automotive and aerospace manufacturers, will find the new Ergo X2 Swivel Technology especially useful. Hamilton's patented eccentric bearing assembly is currently being tested at several major auto manufacturers who have already reported positive results.
The new Ergonomic Series features the popular 4-1/2' x 6-1/2" mounting plate and is offered in 4", 5", 6", & 8" diameter wheels. The caster series are paired with specific Hamilton wheels that provide the lowest startup & maintain forces to optimize the caster's ergonomic performance.
Like all Hamilton forged steel casters, the new Ergo-X2 Casters are manufactured in Hamilton, Ohio USA.
Visit Ergo-X2's product page for additional specs and information