Magswitch Technology MagPress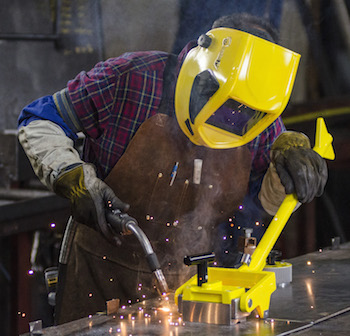 Magswitch Technology, a worldwide leading manufacturer of switchable magnets, is introducing a new way to align steel plates or press beam. The MagPress gives you two functions in one simple tool.
With 1,100 pounds of hold force, the MagPress is the only way to level and align steel. Remove high/lows with ease by placing the magnet on low, prying on high and welding with the other hand. This method allows for an individual to align two sheets and weld the separate sheets 100 times faster than using dogs and wedges.
By rotating the lever to the other side, this tools becomes a beam press tool which can press 4-6" beams in seconds. No more pounding, breaking, grinding or clamping to remove airgaps. Just turn the magnet on and push down on the lever to eliminate airgaps.
Magswitch is the hottest new trend in shipyard fit up tools, delivering tools that reduce cost to complete and days to deliver. Major shipyard customers say, "Using Magswitch tools helps us save over 20 hours every week of unproductive fitting and grinding just on one substructure!"
"Magswitch is a breakthrough in control and strength of permanent magnets, making the shipbuilding process faster, safer and at a lower cost," said David Morton, Chief Executive Officer. "Magswitch is being used in over 40 shipyards right now around the world."
Every Magswitch product is proudly designed, developed, manufactured and tested by Magswitch to ISO 9001:2008 standards. For more information about the company and its related products, visit www.magswitch.com.au or call (303) 468-0662.