Heatstar Cordless Forced Air Heater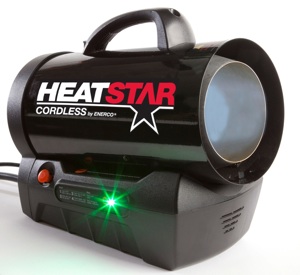 Cold has nowhere to hide with the introduction of Heatstar's Cordless forced air propane heater. This highly engineered product will revolutionize the portable heating category offering contractors portability, power, and convenience never before achieved.
Heatstar's Cordless features a built in battery and charging system that provides the ultimate in portability by delivering 35,000 BTU's of heat for a full day of work (8hrs) on a single charge. This unit can also be plugged in and charged while it is running. The rechargeable battery will last up to 3 years and can easily be replaced.
Producing 35,000 BTU's, the unique cone‐shaped design and custom engineered fan reduces turbulence and produces more efficient heat while keeping the unit cool to the touch. And while traditional propane heaters are loud and irritating, the output noise is cut in half with patent pending Quiet Burner Technology (QBT).
"We designed Heatstar Cordless to solve two of the most common issues experienced with forced air heaters- portability and noise. The patent pending cordless technology allows our forced air heater to be used in areas without power that could previously never be reached and the patent pending QBT burner is 50% quieter and draws over 70% less power than all the other forced air heaters available today," said Jeff Bush, Senior Vice President of Sales/Marketing at Heatstar.
Heatstar Cordless prides itself on its compact, portable and lightweight yet durable design. The built‐in battery is positioned low in the base resulting in greater stability for the heater. The heater's glove friendly, heavy duty handle is both rigid and ergonomic, and much larger than handles found on typical propane heaters.
Heatstar's cordless propane heater has numerous construction, rental, and industrial applications. Please call 800‐251‐0001 for more information.