Gas Engine Equipment: Honda HS720 Snow Blower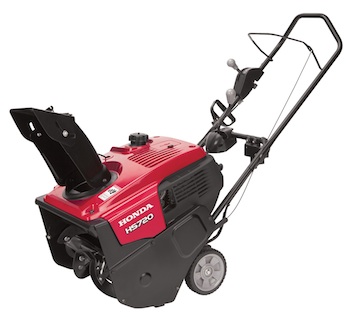 Honda Power Equipment introduces its new HS720 series of premium residential snow blowers.
The Honda engineering team integrated several key feature updates into the HS720A and HS720AS models to provide excellent snow throwing performance and convenient operation in a compact package for both homeowners and commercial users.
Powered by a lightweight OHC Honda GC190 engine, the HS720 series delivers excellent fuel economy with optimal power output. The GC190 premium residential engine maintains its reputation as a quiet, easy starting, and durable engine within the HS720, even in the most frigid conditions.
The new HS720AS model adds an easy to use electric start with a 120 volt AC electric starter.
Despite its relatively small size, the HS720 can clear up to 55 tons of snow per hour, discharging that snow up to 33 feet away. Large volumes of snow are no problem, as the HS720 clears a 20-inch width easily at heights of 12 feet.
In addition, the standard semi self-propelled Auger Assist feature makes quick work of snow removal by aiding in propulsion when needed.
In addition, the Honda dual operator area control easily adjusts the distance and direction snow can be discharged, for the ultimate in control. The 220-degree quick chute feature also allows the user to quickly change the direction of thrown snow with the slide of a lever for better snow-throwing.
New enhancements include a new, large on and off switch as well as an easy grip fuel tank cap for better operation in freezing temperatures when users are wearing gloves. For better transportation and storage, folding handles, a more compact design, and large 7-inch wide tires are now design features of the HS720.
The new HS720 snow blower will feature a two-year residential warranty and a one-year commercial warranty, and meets all current EPA and CARB emission standards.