Gas Engine Equipment: Atlas Copco LT5005 and LT6005 Rammers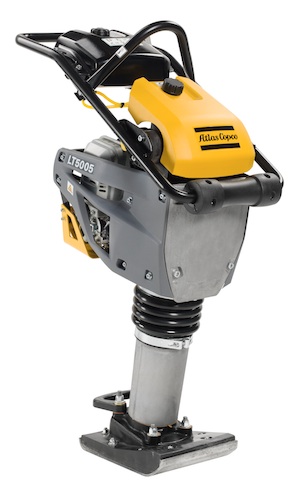 Atlas Copco is introducing two new rammers, replacing the LT5004 and LT6004. These new rammers feature ultra-slim bodies, ideal for getting closer to structures and through narrow spaces. Like all Atlas Copco rammers, the new LT5005 and LT6005 provide high centrifugal force and speed for deep and effective compaction.
At a mere 6 inches wide, the LT5005 is 3 inches smaller than its predecessor and the LT6005 is 9 inches wide – 2 inches shorter than the previous model. These slim designs enable operators to easily compact cohesive and granular soils in confined spaces, such as small trenches, ditches, backfills and foundations. The smaller size also makes it easy for operators to work close to walls or posts.
Atlas Copco designed the rammers with a rubber isolator on each side of the handle to absorb vibrations that would otherwise be transmitted to the operator. This reduces the risk of injuries, such as carpal tunnel syndrome and hand-arm vibration syndrome. The rammers also feature a single lifting point that allows users to easily move them from hard-to-reach spaces with large machinery, such as a crane.
The rammers are equipped with a Honda GXR120 engine that features an overhead camshaft and timing belt that operate with minimal noise. The oil alert LED indicator on the rammers notifies operators when the oil level is too low for proper engine lubrication. The rammers also are equipped with a throttle control with three fixed positions, stop, idle and run. This feature eliminates the risk of leaving the throttle half open, which optimizes fuel use.
"The slimmer profile and reduced weight truly improve the machines' handling in tight spaces, allowing workers to get into areas they couldn't before," says Darrell Engle, product development specialist.
Atlas Copco also designed the LT5005 and LT6005 for easy onsite maintenance. Each unit is equipped with a large air filter that users can change without tools. An upgraded air filter indicator is available upon request. It is designed to alert the operator when a filter needs replacing. Users also can equip the units with hour meters to accurately track service intervals.
Operators can use Atlas Copco's optional trolley to quickly and safely lift and transport the rammers. During lifting and transportation the rammers activate an automatic integral lock, which prevents excessive wear on the shock absorbers. Plus, the fuel tank features an improved seal to prevent fluids from leaking during transportation.