Gas Engine Equipment: Kohler Propane Generators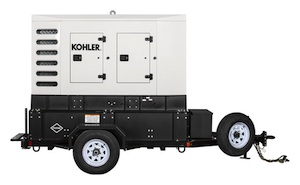 Kohler has expanded its mobile generator product line with the addition of two propane-powered models developed in cooperation with the Propane Education & Research Council. These two new models, the 50REZGT and the 70REZGT, join the 125REZGT propane-powered mobile generator that Kohler and PERC introduced at The Rental Show in Feb. 2014.
The 50-kVA 50REZGT features a 4.3-liter naturally aspirated engine, while the 70-kVA 70REZGT boasts a 5.7-liter engine. Each mobile generator model connects to an external, on-site propane source for extended use. Both can also be outfitted with an optional on-board LP tank that provides fuel for up to 24 hours of use. These particular mobile generator models are ideal for providing safe, reliable, and efficient power for the construction, commercial, event rental, and water utility markets.
Measured by carbon footprint, propane is one of the greenest energy sources available. As a result, Kohler's propane-powered mobile generators produce fewer emissions, toxins, and less smog than those powered by other fuels. And, because propane vaporizes at atmospheric pressure, there's virtually no risk of potentially dangerous, groundwater-contaminating fuel spills on the jobsite.
According to Bridget Kidd, PERC's director of residential and commercial programs, Kohler's newest mobile generator models give even more professionals the opportunity to enjoy the benefits of clean, cost-effective, American-made propane.
"Thanks to its lower emissions, greater efficiency and overall value, propane is becoming widely recognized as an ideal alternative fuel for residential and commercial systems, appliances, and equipment," Kidd said. "Kohler's new mobile generator models are yet another example of how propane can provide consumers and professionals with optimum power and performance while ensuring a cleaner, safer environment."
Learn more at www.kohlergenerators.com
Kohler's propane-powered mobile generators offer numerous benefits, and now, PERC is also making them more affordable through its Propane Heat & Power Incentive Program. This program encourages construction professionals, homeowners, and businesses to adopt new, propane-powered products for residential and commercial use. Qualifying and select participants who purchase Kohler's two new propane-powered mobile generators can receive financial incentives of $1,000 to $3,500 simply for sharing their product usage experiences with PERC. Learn more at www.buildwithpropane.com/heatandpower.