Honda VersAttach Multi-Purpose System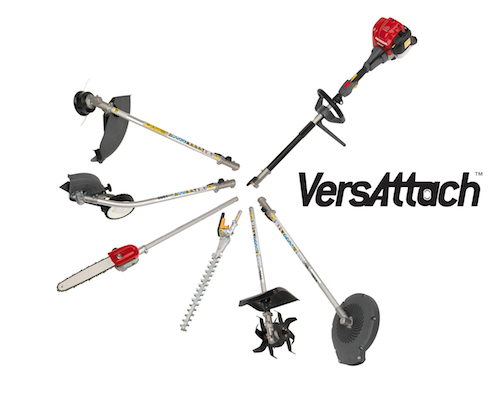 Honda Power Equipment enters the split-shaft trimmer market with the introduction of an all-new product offering, the Honda VersAttach Multi-Purpose System.
Featuring two powerhead options and six different attachments, the VersAttach System combines the power and reliability of legendary Honda 4-stroke engines with a robust lineup of tools to fit a wide range of lawn and garden needs.
The Honda VersAttach System offers two powerhead models, the UMC425, powered by a Honda GX25 Mini 4-Stroke engine, and the UMC435, powered by a GX35 Mini 4-Stroke engine. Each model can be paired with an optional interchangeable edger, line trimmer, blower, hedge trimmer, pruner and cultivator that fit quickly and securely into the attachment shaft by way of Honda's SureLoc joint locking system, saving time and effort for the user.
The SureLoc joint locking system is a two-position joint mechanism that operates with a click and a twist, allowing the user to easily connect and disconnect attachments with no tools required. The SureLoc feature, incorporating a durable high modulus resin key, is wear resistant, offers intuitive assembly and instant, secure engagement of attachments.
In addition, the anti-vibration system includes two rubber-mount shaft inserts between the shaft and clutch and the handle assembly, providing comfortable use, especially for long periods of operation.
The innovative design of the Honda Mini 4-Stroke engine provides for full, 360 degree operation, allowing the VersAttach to be used—and stored—upright, sideways or even upside down.
Each VersAttach powerhead includes a pair of safety goggles and a single (GX25) or double harness (GX35) for added convenience and control. Both models carry a 36-month residential warranty and a 24-month commercial warranty.