JCB 3CX Compact Backhoe Loader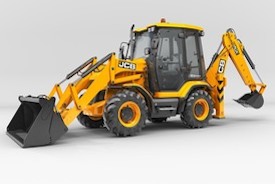 JCB is launching its innovative 3CX Compact Backhoe Loader, delivering big machine performance for confined job sites. The 3CX compact is well-suited for the utility, cemetery and municipal markets and ideal for use on construction projects in urban areas with space constraints.
Key features include:
Compact dimensions – just 6'3" wide and 9' high, for maximum maneuverability
Rapid travel – 25 mph hydrostatic transmission
Total control – pilot controls and smooth hydraulics deliver 19% more flow
Maximum maneuverability – 4 wheel steering provides a 19' turning radius
Highly versatile – a choice of 2CX and skid steer hitches plus an excavator quick-hitch
The 3CX compact combines the digging power and ease-of-use of a compact excavator, with the capabilities of a compact wheel loader, yet it is far more than simply a digging and loading machine. Backhoe loader, compact excavator and skid steer loader attachment compatibility allows the 3CX compact to work with a wide-range of attachments and handheld tools, for maximum versatility and utilization.

An impressive 19% increase in hydraulic flow, at 26 gpm, in combination with standard excavator pilot controls, gives the 3CX compact outstanding controllability for operators familiar with both compact excavators and backhoe loaders. Up to 20 gpm of bi-directional auxiliary flow allows a wide range of hydraulic attachments to be used, including augers, increasing the versatility and productivity of the backhoe. The 3CX compact is available with two fixed or extended dipper lengths at the rear.
At the front end, the loader comes with a range of buckets that can be supplied with optional cutting edge for road stripping applications. A load over height of 9'9" and max forward reach at full height of 3'8" allows easy loading of trucks and other high-sided vehicles. The machine can also be ordered with a hydraulic quickhitch, for faster attachment changes.
The six-in-one bucket makes the 3CX compact the ideal machine for a host of jobs on site. Pallet forks and specialty attachments, such as sweepers, add to the machine's versatility.
Low Emission Driveline
The 3CX compact is powered by a low emission Tier 4 Final JCB Diesel by Kohler engine, delivering 74hp. This highly efficient engine meets both U.S. and European emissions standards without the need for a costly diesel particulate filter (DPF) or any exhaust after-treatment or exhaust fluid.
The engine drives through a three-speed hydrostatic transmission to all four wheels, for maximum traction across difficult site conditions. The hydrostatic transmission offers a 25 mph top speed for travel between sites. The transmission also features a creep mode, which allows the operator to run at high engine rpms to power high-flow attachments such as road planers, with a maximum travel speed of just 2 mph.
The hydrostatic transmission eliminates the need for a gearshift lever or a clutch, ensuring maximum ease-of-use. Heavy-duty JCB axles with an optional limited slip differential helps reduce wheel slip in tough conditions. An intelligent braking system disengages the transmission to increase efficiency and reduce component wear.
Riding on equal-sized wheels, the 3CX compact has selectable two- and four-wheel steering. An exceptional turning radius of 19' to the outside of the wheels with brakes engaged and 22' without brakes makes the machine highly maneuverable and easy-to-operate on tight urban jobsites.
Optional bucket and stabilizer street pads are available to prevent damage to roadways. In combination with a hand-held hydraulic tool circuit and a host of high power attachments, such as breakers and patch planers, the 3CX compact is the ideal machine for road maintenance.
For more information, visit www.jcbna.com