Other Products: Hyde Tools PivotJet for Garden Hose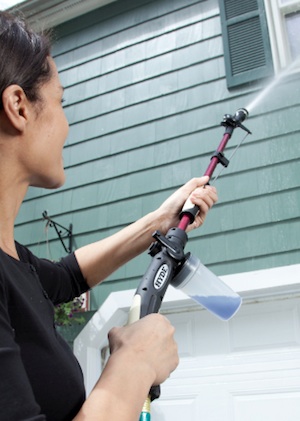 Announced last fall, Hyde Tools' PivotJet wand for garden hoses is now available. The PivotJet wand attaches directly to any garden hose to handle virtually any type of outdoor cleaning job.
The PivotJet not only adds extra reach and an adjustable spray pattern – it features a patented nozzle that pivots up to 135 degrees to redirect the water stream. The pivoting helps you get over, under or into difficult spaces without having to bend, kneel or stoop. To turn the nozzle you simply push or pull the grip.
This spray accessory comes with a soft-touch foam grip for comfort and a rubberized tip that protects the surface you're cleaning, Variable spray patterns range from fine mist for flowers to pinpoint high-pressure control settings.
A free-spinning hose interface keeps the hose from kinking. The PivotJet can be used with any standard garden hose and will allow you to replace the tip with any other standard nozzle or hose accessory.
The PivotJet is perfect for an endless variety of jobs. Applications include:
Cleaning gutters, house siding and foundations
Deck and patio cleaning
Refreshing patio furniture
Washing windows
Cleaning driveways, walkways, fences and sheds
Cleaning around pools
Washing cars and trucks
The PivotJet line also includes a PivotJet Pro, which comes in a 38" length for 6" of extra reach, and features a built-in soap reservoir with soap mixture controls. The control switch allows you to control the mixing of soap for cleaning and return to clear water for rinsing with the simple flip of a lever.
For more information, visit hydetools.com, contact your Hyde Tools sales representative, email custrelations@hydetools.com or call (800) 872-4933.