Other Products: Viega Climate Mat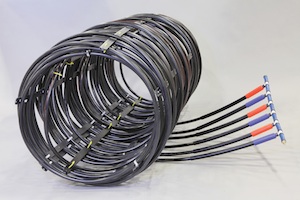 The Viega Climate Mat offers a revolutionary way to install large amounts of tubing quickly for commercial radiant heating and cooling applications.
Viega's Climate Mat is now available in new 12-inch on-center mat configurations in a range of length configurations with the option of 6-inch, 9-inch and 12-inch on-center spacing.
Part of the Viega ProRadiant line, and first of its kind, the Viega Climate Mat comes in a pre-engineered, pre-assembled and pre-pressurized roll with temporary test headers and slab penetration sleeves. It allows a three-person crew to install 20,000-square-feet of tubing in an average work day.
Ideal for use in large open areas typically found in warehouses, garages, manufacturing plants, schools, airport terminals and various commercial structures, the Viega Climate Mat makes radiant heating and cooling a more economical solution for creating comfortable commercial environments. It offers many benefits including equal circuit lengths, reduced installation time, system balance and a variety of configurations. All connections are located above the slab providing for connection confidence and future zoning considerations.
The Viega Climate Mat spacer strips and clips are designed to securely hold ViegaPEX Barrier tubing during the concrete pour. To increase installation speed, the Viega Climate Mat is delivered with shipping headers, slab-penetration sleeves and sufficient leader length for rough-in onsite. Later during construction, the shipping headers are cut off and replaced with permanent manifolds. The shipping header is equipped with a quick-check valve for onsite quality control.