Other Products: Coxreels HP1125 Series High-Pressure Reels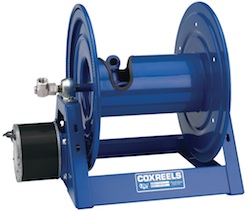 Coxreels is expanding capabilities of its existing hand crank and motorized 1125 Series reels to offer an upgraded swivel for high pressure applications. Coxreels' new high pressure HP1125 models complement its highly popular 1125 Series.
With a proven operating pressure up to 5,000 psi, the external fluid path is configured with an electroless nickel plated steel 90° full-flow NPT swivel inlet and chemical resistant AFLAS seals to handle the most demanding tasks in any high spraying circumstance.
The HP1225 models have all the standard features and benefits of their sister series, including a sturdy one-piece, all-welded "A" frame base for maximum stability, low profile outlet riser, and open drum slot design to provide a non crimping, flat smooth hose wrap.
This high pressure option is available for ½" and ¾" models.
For further information on the Coxreels product line, contact Customer Service at 800-269-7335 or visit www.coxreels.com