Johns Manville High-Performance ProtectoR HD Cover Board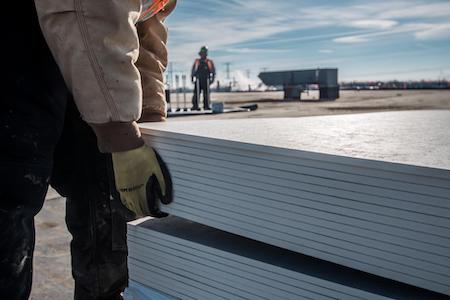 Johns Manville (JM) announced a wide range of new high-performance commercial roofing products including ProtectoR HD High Density Polyiso Cover Board. It provides excellent protection and can save time and expense for contractors. With a closed cell polyiso foam core and inorganic coated glass facers, this high-density cover board has a Grade 1 compressive strength and an R-value of 2.5.
The product offers excellent resistance to moisture, hail, wind uplift and puncture, plus its light weight makes it easy to handle.
The product has the lowest fastening rates in the market for a HD polyiso cover board—up to 50 percent fewer fasteners are needed to achieve FM I-90. As an example, it takes only eight fasteners per 4' X 8' board with adhered reinforced membrane (TPO, PVC, EPDM-R, Mod Bit¬) applications over a minimum 22 ga steel or structural concrete deck to achieve FM 1-90 performance.
"ProtectoR HD is an important addition to our polyiso cover board offering," noted Tesha Kroll, Director of Product Management, Roofing Systems at JM. "It expands our line with a half-inch, high-density product and gives us the most comprehensive offering in the industry."
Additional information can be found at www.jm.com.