Material Handling: Justrite Rigid-Lock QuickBerm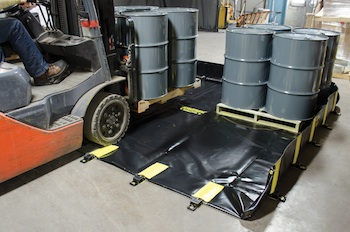 The new Rigid-Lock QuickBerm drive-through containment berm from JustRite offers superior protection against small-to-large scale spills from drums, IBC totes, tanks and leaky equipment. Its patented Rigid-Lock wall support provides unobstructed floor space for vehicle tires, foot traffic and cleaning.
its single-piece construction makes set up quick and easy — no assembly required.
The durable modified PVC-coated fabric withstands a broad range of chemicals including petroleum, oils, grease and most acids. Its flexible design makes it easy for sidewalls to lower for small vehicles to drive in/out, then with a simple tug, support walls lock back in the upright position for spill readiness.
Reinforced Critical-Corner construction prevents seam leaks for fluid-tight reliability. The berm folds down for easy storage and portability — for use indoors or out.
Backed by a century of experience, Justrite Mfg. Co. is the leading authority on the safe management of flammable liquids. Faithfully engineered and tested for unsurpassed reliability, code-compliant storage and handling products help reduce fire risks, improve workplace safety, and protect the environment. Long recognized as a vital part of environmental, health, and safety programs, Justrite products are available through authorized distributors worldwide. For more info, visit www.justritemfg.com