Material Handling: Vidmar STAK Storage Systems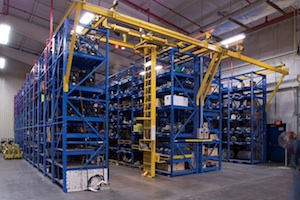 What kind of storage solution can accommodate large, bulky items too heavy to be moved by hand? How can a facility ensure it runs at peak efficiency while maximizing its storage space? The answer is adjustable racking.

Here are 3 ways adjustable racking adds flexibility to a facility:

Moveable pallets:
Vidmar's adjustable racking system is based on moveable pallets, as opposed to fixed shelves, that can be continually adjusted or expanded to meet a facility's evolving storage needs. Pallet racking provides 25,000 lb. capacity per storage selection and is available at a height of up to 16 feet for maximum vertical storage space (top shelf storage also allows for storage over 16 feet).

Versatile solutions:
With the Vidmar STAK System, removable, adjustable pallets and a captive lifting and handling device, operators can handle loads weighing up to 4,000 lbs. and fully operate in as little as 250 square feet. Plus, the system doesn't require a separate forklift or forklift license.

Custom-configured:
Both the STAK System and adjustable racking system provide the opportunity for custom-configured storage solutions.

Proven Results:
By using the STAK to squeeze more parts into less space, HYDAC Corporation tripled storage capacity for its 60,000 square foot facility in Bethlehem, PA. Omaha Public Power District used STAK to improve workplace efficiency by storing (and having the ability to quickly retrieve) a host of items from the smallest computer components to oversized valves.

Vidmar offers both new and potential customers a free onsite analysis to ensure that all storage needs are being addressed. Interested businesses should visit www.STANLEYVidmar.com/contact or call 800-523-9462.