Material Handling: Harrington Hoists AL Series Certified Spark Resistant And Lube Free Air Hoists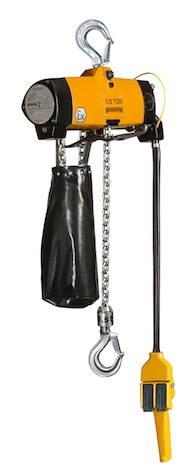 Harrington Hoists, Inc. has introduced their new AL Series air hoists which are certified spark resistant to the EU ATEX Directive, a stringent European safety standard for spark resistant compliance in industrial hoists.
The AL series hoists are designed to be used in explosive atmospheres that require features that reduce the risk of spark to ATEX level (Ex) II 2GD c T5 IIB T100°.
These hoists are also suitable for applications where a clean environment is a necessity because they can operate completely dry leaving no lubrication in the exhaust air which is a requirement in certain food, chemical and pharmaceutical industries.
AL Series hoists can also operate with oil, if the application permits, for longer vane life.
AL series hoists are lightweight and compact; available in 1/4- through 5-Ton capacities with either pendant, cord or twist rod control for precise load control.
Standard features include a patented heavy-duty disc brake, reliable vane motor for smooth operation and controlled travel, bearing supported planetary gearing system and upper / lower limit switches.
The hardened steel load chain and the hook and latch system are plated and blue-chromated for corrosion resistance and extended wear.
Call 717-665-2000 or visit www.harringtonhoists.com