Kapro 905D Condor Digital Level with OPTIVISION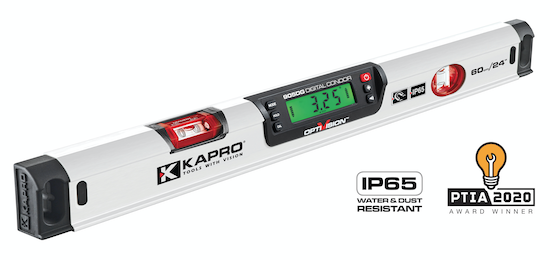 Kapro Tools introduces its 905D Condor Digital Level with OPTIVISION Red Technology. The 905D's digital functions include a "mode" function for selecting degree (0, 1 or 2 decimals), percentage, pitch mm/m, in./ft. and in./ft. in fraction format. The "hold" button freezes the readout on the display and the "false zero" function lets you manually set your base angle for quick and precise slope measurements as needed for ADA 4.8.2 ramp compliance.
The 905D has electronic recalibration, visual and audible slope indication and a low-battery indicator signal. For conserving battery life, users may set the auto shutdown for 15, 30, 60 and 120 minutes of non-use. The 905D is IP65-certified waterproof and dustproof and comes with a lifetime warranty.
The 905D model features the largest LCD display in its class, which is tilted at 45° with a flip readout for optimal readability at any angle, including when it is inverted overhead. The 905D features accuracy of <0.05° at level and plumb and <0.1° at other angles.
The 905D is based on Kapro's 905 Condor professional box level and incorporates many of the level's best features, including strong rare earth magnets, an uninterrupted upper surface and large rubberized shock-absorbing end caps and its unique polycarbonate breakproof OPTIVISION™ Red vials that are up to eight times easier to read compared to regular vials.
"The Kapro 905D was meticulously designed to combine the latest digital technology with the job-tested ruggedness of Kapro's original 905 Condor," said Gal Wollach, vice president of business development at Kapro Tools. "The result is one of the most advanced professional digital box levels in the world, packed with state-of-the-art features that make it ideal for construction, framing, roofing, carpentry, tiling and beyond."
To see a video of the 905D in action, click here. To learn more about Kapro's innovative line of products, visit Kapro.com.