Crescent Lufkin Chalk Reels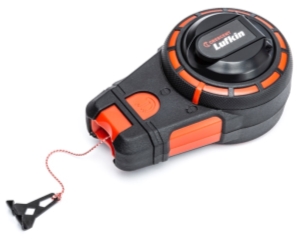 For too long, professionals have had to deal with chalk reels that are messy, inefficient and poorly built. That's why Crescent Lufkin is launching its new line of chalk reels, designed to erase the most common problems with the competition's products.
The new chalk reels from Crescent Lufkin put those problems to bed.
The 100-Foot Professional Reel (#CLO100) is available with dual-material or aluminum case and features an end hook that retracts into a nested position, protecting it from unwanted snags. The rotating hub lock lets you stop the line in place, while the 6:1 gear ratio, rotating hub with fold-away handle provides faster rewind and reel protection during storage. The one-way chalk refill valve allows for quick chalk refills without the mess.
The 150-Foot Site Reel (#CL150) has snap-in end hook storage for fewer tangles during storage, a textured handle for better ergonomics, and a combination hook and ring design for use in all construction environments.
The 50-Foot Compact Reel (#CL50) fits easily into a pocket or work pouch and holds 50' of line. The 3:1 reel offers faster rewind and decreased retrieval time than others in its class, while the fold-away handle locks the retrieval arm in place to prevent breaking or inadvertent unreeling.
Crescent Lufkin also introduced new Hard Mark Blue Chalk, a high-brightness chalk that is 3X more visible than normal chalk. The full chalk line-up includes five colors (8 oz. and 2.5 oz. options) for a variety of user needs.
For more information, visit www.crescenttool.com.