STABILA 80 AS True Pro Limited-edition Spirit Level Sets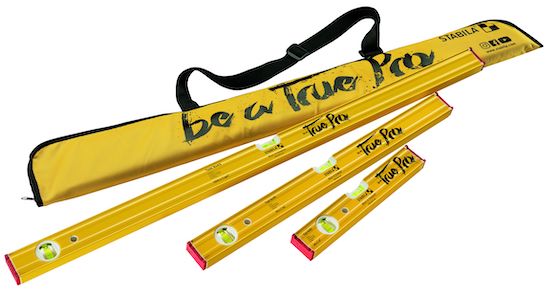 With the True Pro campaign, STABILA has been drawing attention to successful and creative craftsmanship for many years and uses its social media channels to provide a platform for the tradesperson community. To continue this sense of community, STABILA is now offering three professional spirit levels from the 80 AS series in an attractive and limited-edition True Pro design. Thanks to STABILA's tried-and-tested quality, tradespeople will be perfectly equipped to take on the daily challenges of the construction site and can use the appealing True Pro special labels to really make a statement.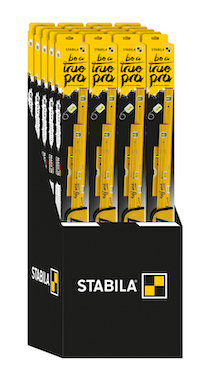 Tried-and-tested quality
The limited-edition spirit levels offer the same high standard of quality customers have come to expect from STABILA. The vials are made from highly transparent, hard-wearing acrylic glass with precision-ground inner contours and flush-fitting reference rings. The fluorescent vial fluid ensures optimum readability from (-4 to 122 degrees Fahrenheit (-20 to +50 degrees Celsius).
In addition, STABILA's one-of-a-kind installation technology involving special epoxy resin provides a secure and permanently unshakeable bond between the individual components. As a result, the spirit level continues to work just as accurately as it did on the first day, without the need for readjustment, even after years of use. Integrated anti-slip stoppers ensure the spirit level is seated firmly at all times during marking.
Three Level Set
The limited-edition spirit level set is comprised of three spirit levels in True Pro design, in lengths of 12" (30 cm), 24" (60 cm) and 48" (120 cm). In addition, the set includes a spirit level bag, which also features the True Pro design, as well as a key fob incorporating a vial. The sets are presented in a sales-boosting, compact display to allow them to be positioned attractively in retail locations. They are available at a special price of $130.00 USD / $170.00 CAN.