Stationary Tools: Kreg PRS1045 Precision Router Table System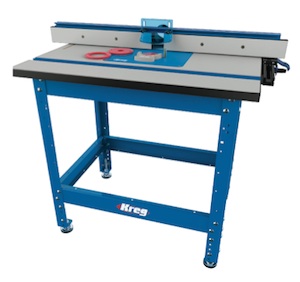 The all-new Kreg Precision Router Table System offers an innovative solution for all of your precision-routing needs. That's because this router table combines the popular features of its predecessor—the PRS1040 Kreg Precision Router System—with an innovative batch of new features and improved capabilities.
The new Kreg Precision Router Table System (Item# PRS1045) features an all-new self-squaring fence system, an updated table, as well as an easy-to-use steel stand that offers even more customizability.
At the heart of the router table is Kreg's NEW Precision Router Table Fence (Item# PRS1015). You'll quickly appreciate the easy assembly and adjustability that this new fence offers. Additionally, the fence features an innovative T-square style design that always stays parallel to the miter/T-slot and adjusts easily without deflection— plus a micro-adjust wheel for precise setups.
Kreg's Precision Router Table Top (Item# PRS1025) provides a spacious 24" x 32" work area. A durable Easy-Slide TM laminate surface allows workpieces to glide easily, while reinforcing struts ensure a flat table surface. An updated design makes fence removal easy for freehand routing.
The new Multi-Purpose Shop Stand (Item# KRS1035) offers solid support for the router table system. It's constructed from heavy-gauge steel, and features legs that can be adjusted to any custom height between 29" and 35". Leg levelers ensure wobble-free footing.
Key Features:
T-square fence stays parallel to Miter/T-slot




Measuring scale is accurate and easy to use




Fence locks solidly to ensure perfect setups




Sliding fence faces provide adaptable workpiece support

Large 24" x 32" table supports big workpieces

Durable table core and surface provide lasting reliability

Combination Miter/T-track offers versatility




Heavy-gauge steel creates a strong, solid base




Adjustable legs allow custom table height (29" to 35")